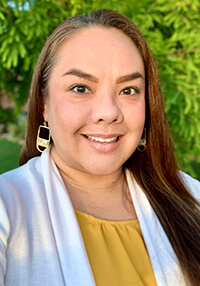 Jamie Diaz, LPC-S
Licensed Professional Counselor
Pronouns: she/her/hers
Practice Philosophy
"Hope is a passion for the possible." – Soren Kierkegaard
My goal as a counselor is to develop a safe and authentic relationship with you. I hope to learn your life story while validating your innate worth. As we work together, your unique strengths will be the foundation for nurturing self-worth and trust in your own potential. We will focus on healing from past hurt and trauma, developing new ways of thinking and feeling in present circumstances, and practicing healthy skills to support you as you move forward. You deserve a life full of hope, passion, and possibility.
My counseling style is empathetic, respectful, and person-centered. I collaborate with you to individualize the counseling experience to meet your needs and goals. My knowledge and skills incorporate positive and developmental psychology; cognitive behavioral, attachment, and system theories; and trauma-conscious models. 
Adults
LPC-Associates
Couples
Mental Health Professionals
Families with Older Teens (16yrs+)
Adoptive Parents
LGBTQIA+ Community
About Me
My name is Jamie Diaz and I grew up in Yorktown, Virginia. I attended Palm Beach Atlantic University in south Florida earning my B.S. in Psychology in 2002 and M.S. in Counseling Psychology in 2007. I moved to Fort Worth, Texas in 2007 and received my Licensed Professional Counselor license in 2010. I added my LPC-Supervisor credential in 2012. I have 18 years of experience in non-profit organizations as an ESE teacher with children with autism, family coach, family therapist, and administrative/clinical supervisor. I entered private practice in 2022. I balance my life by enjoying quality time with my husband, two children, family, and friends. I love traveling, camping, watching movies, reading, and a good cup of coffee.
Areas of Interest
* Mindfulness
* Emotional Management
* Mood Disorders (Anxiety, Depression, Bipolar)
* Trauma
* Attachment
* Relationship Issues
* Premarital Counseling
* Women's Issues
* Self-Esteem
* Identity Development
* Spirituality
* Professional Health
* LPC Supervision