Dulce Hernandez, PsyD, LMFT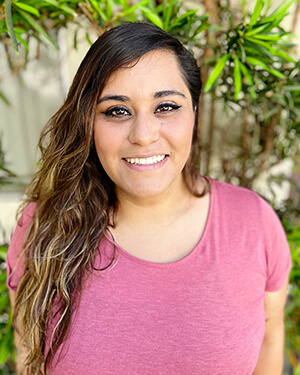 Dulce Hernandez, PsyD, LMFT
Psychologist, Licensed Marriage Family Therapist
Supervised by: Kyler Shumway, PsyD
Pronouns: she/her/hers
Practice Philosophy
My goal as a Psychologist and Licensed Marriage and Family Therapist is to create a safe, affirming and collaborative space for individuals, couples and families to explore the complexities of life. Therapy can be a daunting experience; therefore, I like to meet people where they are at in their therapy journey. I work from a social justice, multicultural, collaborative, strength-based and relational perspective. I also incorporate humor, mindfulness, coping strategies, cultural humility and highlight individual's strengths in session.
Anxiety 

Depression

Grief and Loss

Trauma

Transitional Issues

Relational Issues

Couples 

Families 

Young Adults

Building Self-Esteem

LGBTQ+ Affirming

Undocumented/DACA/Immigration Concerns

Issues related to being a First-Generation College Student 

Bilingual (Spanish-Speaking Services)
Background
I was born and raised in the Bay Area, CA and moved to San Antonio, TX as a teen. In San Antonio I completed my bachelor's degree in psychology from Our Lady of the Lake University (OLLU). I continued my education at OLLU and earned my master's degree and doctorate degree in counseling psychology, both with an emphasis in providing psychological services to Spanish speaking populations. I then did my APA-Accredited, pre-doctoral internship at California State University, Northridge, University Counseling Services. As a Latina who grew up in California, Texas, and Mexico, I have learned the importance of embracing individuals intersecting identities. I approach individuals with curiosity, respect and cultural humility. My own experiences along with my academic/professional training at university counseling centers, community mental health clinics, shelters, and non-profit organizations have led to create fundamental skills to serve a diverse group of individuals. 
For fun I enjoy spending time with my loved ones, being outdoors and traveling.
Dulce Hernandez, PsyD, LMFT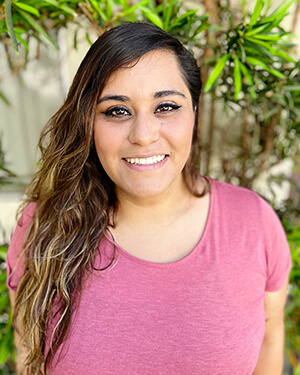 Dulce Hernandez, PsyD, LMFT
Psychologist, Licensed Marriage Family Therapist
Supervisada por: Kyler Shumway, PsyD
Pronombres: ella
Mi meta como psicóloga y terapeuta matrimonial y familiar es crear un espacio seguro y colaborativo para individuos, parejas y familias para explorar las complejidades de la vida. La terapia puede ser una experiencia desalentadora por eso yo trato de crear un especial donde usted es el guía de la sesión al nivel que se sienta cómodo para cada uno de ustedes. Yo trabajo desde una perspectiva de justicia social, multicultural, colaborativo, basada en las fortalezas, y relacionalmente. También incorporó el sentido del humor, estrategias para afrontar problemas y humildad cultural.
Ansiedad

Depresión

Duelo y pérdida

Trauma

Problemas de transición

Problemas relacionales de parejas

Familias

Adultos jóvenes

Construyendo la autoestima

Afirmación LGBTQ+

Indocumentados/DACA/preocupaciones de inmigración

Problemas relacionados con ser un estudiante universitario de primera generación

Bilingüe (servicios de habla hispana)
Sobre mi 
Nací y crecí en el área de la bahía en California y me mudé a San Antonio, TX cuando era adolescente. En San Antonio completé mi licenciatura en psicología de la Universidad Our Lady of the Lake (OLLU). Continué mi educación en OLLU y obtuve mi maestría y doctorado en psicología de consejería, ambos con énfasis en brindar servicios psicológicos a las comunidades de habla hispana. Luego hice mi internado predoctoral (acreditada por APA) en California State University, Northridge, University Counseling Services. Cómo latina que creció en California, Texas y México, aprendí la importancia de aceptar las diversas identidades de las personas. Me acerco a las personas con curiosidad, respeto y humildad cultural. Mis propias experiencias junto con mi formación académica/profesional en centros universitarios, clínicas comunitarias
de salud mental, refugios y organizaciones sin fines de lucro me han llevado a crear habilidades fundamentales para servir a un grupo diverso de personas.
Para divertirme, disfruto pasar tiempo con mis seres queridos, pasar tiempo al aire libre y viajar.