Couples Counseling and
Therapy for Relationship Issues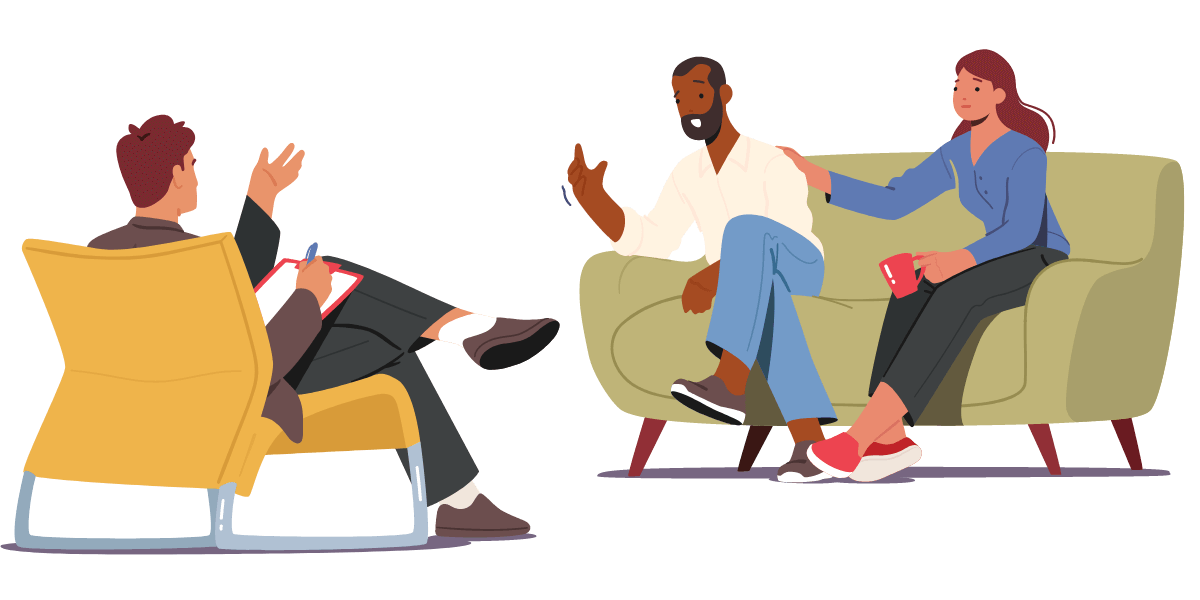 Relationship in Crisis?  Stuck in a Rut?  We Can Help. 
Are you feeling stuck in a rut with your partner? Do you struggle to communicate, resolve conflicts, or meet each other's needs? Do you want to rekindle the spark and intimacy that you once had?
If you answered yes to any of these questions, then you are not alone.
Many couples in Texas face challenges and difficulties in their relationships, especially in today's fast-paced and stressful world. But there is hope. You can overcome these obstacles and create a stronger, happier, and healthier bond with your partner. All you need is some guidance, support, and skills from a professional couples counselor (like the ones here at Deep Eddy!).  
What is Couples Counseling? 
Couples counseling (also called Couples Therapy) is a type of therapy that helps couples improve their relationship by addressing the issues that are causing them distress. Couples counseling can help you and your partner understand each other better, communicate more effectively, resolve conflicts constructively, enhance your intimacy and affection, and restore your trust and commitment.
Couples counseling can also help you cope with major life transitions, such as marriage, parenthood, career changes, infertility issues, or retirement. Whether you are dating, engaged, married, or separated, polyamorous or monogamist, couples counseling can benefit your relationships.
At Deep Eddy Psychotherapy, we hire first-in-class couples counselors who can help you and your partner achieve your relationship goals. We are committed to helping you and your partner create a lasting and fulfilling relationship.
Our therapists can help couples who are experiencing:

Divorce or separation

Infidelity or loss of trust

Affair recovery

Frequent disagreements or arguments

Loss of sexual satisfaction and emotional intimacy

Blending families

Cultural or religious differences

Family grief and loss (e.g., death of a child or parent)

and more
Read on to learn how, or use the button below to get started!
What's different about couples counseling at Deep Eddy? 
Couples therapy is your chance for relationship transformation. 
Our couples counselors have advanced specialty in couples therapy and have studied with national leaders in the latest, most-effective approaches. As a whole, our couples counseling tends to be very experiential, attachment-oriented, and rooted in an understanding of the brain and arousal states (such as trauma and nervous system regulation).The field of couples therapy has experienced a huge evolution. 
Couples therapists have recently expanded the relationship treatment tool-belt, discovering ways to facilitate faster, more powerful change. Our Texas-based therapists have brought these new tools into our practice through advanced training in the most cutting-edge approaches to couples therapy (such as PACT–Psychobiological Approach to Couples Therapy).  These new couples counseling approaches draw on a greater understanding of how the brain works, how arousal and threat-responses lead to triggering behavior, and how secure attachment can be facilitated.  This type of couples work therefore helps people to understand how their partner's brain works and what they can do to shift both people's brain states from fight or flight toward safety and connection.
This shift is so important!
When we do not feel safe, our minds are primed to either attack or shut-down. In these difficult moments, rational or verbal solutions simply do not work. When the neocortex (the most advanced part of our brain) goes offline because of being emotionally triggered, couples must learn to focus on communicating to subcortical parts of their partner's brain. Through touch, tone of voice, proximity, etc., couples can practice working together to shift each other's internal system away from defense, attack, or freeze toward collaboration, support, and mutual care.
Our Couples Therapy Approach
Because these skills take practice, the approach we use with couples is active, experiential, and concrete. Our therapists are engaged, playful, and direct. Believe it or not, couples counseling can be fun! Our clients express feeling excited and empowered to discover how to bring out the best in their partners. And doing so leads to huge rewards!  We encourage couples to actively create the relationship they want!
There is wonderful research that a healthy couples bond can serve as a profound source of healing and growth. The longest longitudinal study on humans (which tracks participants for 75 years), clearly showed that relationship is the most powerful predictor of one's physical and emotional wellbeing. On the flip side, couples can do damage to each other when they are not in a good place. It is important to be proactive when it comes to one's partnership.
Couples therapy does not need to be a last-ditch effort. It can be a space of exploration, a time to get to know your partner more deeply, share a bonding experience, and develop a mutual vision of your life together.
Whether your relationship is in crisis or you just have some things to work through that could be easier between you, we are here. Our couples therapists serve clients all across Texas – Austin, Houston, San Antonio, Dallas, San Marcos, you name it. Deep Eddy is here to help. 
If you're ready to get help with your relationship, click the button below to set up an appointment with one of our specialists!