Do you suffer in your relationships? Want to better understand yourself in relationships and learn to build better ones? Group therapy might be a good fit for you.
 The American Group Psychotherapy Association reports:
Group therapy works! In studies comparing group psychotherapy to individual therapy, group therapy has been shown to be as effective and sometimes even more effective.
Through developing more comfort with feelings, vulnerability, authenticity, and closeness, group therapy is fast and effective at helping people be themselves, like themselves, and trust and enjoy others.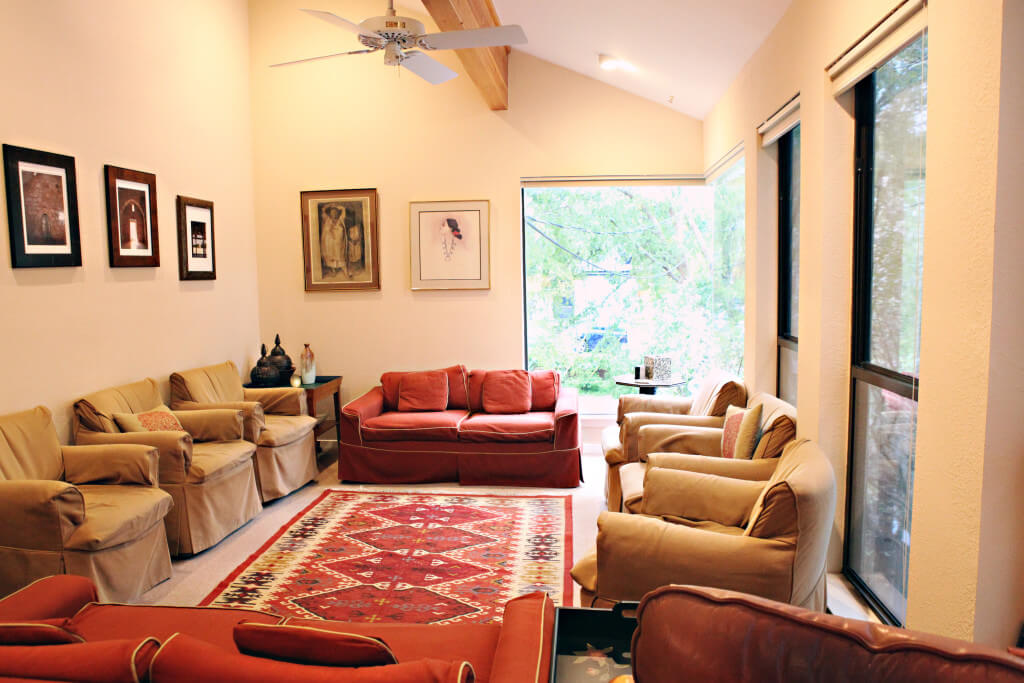 Benefits of Group Counseling
Most presenting issues have some connection to past or present relationships and how one feels about oneself, others, and one's life as a result of those relationships. Whether one has experienced loss, mistreatment, rejection, being pushed into a role to please others, or one of the many other things that go awry in our relationship experience, group is a direct and powerful way to access relationship patterns and feelings toward oneself in relationships that are the source of the presenting concern. From anxiety, depression, low self-esteem, communication or anger issues, to repetitively choosing the wrong partner for you, processing and understanding your relational experience in real time is a powerful opportunity for change.
Clients can practice applying the insights and skills they are learning in individual therapy, such as awareness of feelings, their source, and the ability to express them vs. acting them out. Looking at relationship dynamics in real time as reactions are occurring with other group members allows profound development to happen naturally. While exploring, the therapist or other members may notice things about the person that wouldn't be apparent in individual therapy and that the person might not know to report to his/her individual therapist. Group therapy helps people learn to be more authentic and have a more full and loving sense of self, to have healthier relationships, to communicate effectively and to not recreate painful childhood relationship dynamics in present relationships. These changes, combined with the support of the group, lead to decreased anxiety, depression, anger, and distress.
The support is not the focus for us (as it would be in a support group), though deep, supportive relationships are often formed with other members. Group therapy for us is a psychotherapy group where the focus is on exploring one's real self and your feelings that are stimulated by the relationships in the room (which will inevitably mirror the relationship dynamics and feelings that arise outside of group therapy). So, what we want to see  is people talking to each other about how they feel with each other moment to moment.  Through this process you will receive valuable honest feedback as well as learn about your reactions to others.
Young-Adult Group Counseling
Two of our groups are young-adult groups (twenties and early thirties). As we grow into ourselves during this tender time of life, deep exploration of who we are, our relational patterns and struggles, and important life-path choices creates more confidence and clarity. Sharing together the complex experience of embracing adulthood and creating the life you want provides insight and comfort that powerfully help us through the challenges.
Schedule
We invite you to look over the list of groups we offer and consult with us about them. Which therapy group you join would be based not only on scheduling, but on how who you are fits therapeutically with the characteristics of each. Whether or not group therapy would be beneficial and appropriate for you at this time would be assessed by the leader in the intake interview.
led by Drs. Mike Balsan & Aaron Dembe

led by Jev Sikes, Ph.D. & Ruby Branson, LMSW

led by Jev Sikes, Ph.D. & Robert Lewis, LPC

led by Drs. Mike Balsan & Aaron Dembe

led by Charlotte Howard, Ph.D.

led by Owen O'Brien, LCSW & Steve Cheney, LPC

led by Dianne Rapsey-Vanburen, PsyD

led by Tiffany Nicely-Williams, LCSW

led by Matt Halvorson, LPC

led by Drs. Aaron Dembe & Mark Provence

led by Matt Dietrichn, LCSW

Led by Michael Azarani, Ph.D.

Led by Jef Page, LPC-A & Adam Horn, LPC-A

led by Irek Banacyzk, LMSW, LCDC & Steve Cheney, LPC

led by Stephanie Parez, LPC

led by Uriel Navarrete, Psy.D.

led by Stuart Irvin, PhD & Dianne Rapsey Vanburen, PsyD

Deep Eddy Office & Online

led by Matt Halvorson, LPC

led by Matt Dietrichn, LCSW

led by Kate Coffiled, LCSW
What Our Clients Say About Group Therapy
(taken from former clients reaching out by email)
I can't emphasize enough the gratitude I have towards the group, and you for leading us….I am now much more attuned to my defense mechanisms and their activity – I can dig deeper in the moment and identify what it is that is causing me to fear. And I can take that healing with me for the rest of my life thanks to you all. I need it.
I wanted to tell you again how much I enjoyed Group and how much I learned. It was an enlightening experience, in every way. You have been wonderful throughout—steady, insightful, appropriately accessible.
I was in your Monday group for about a year. I just wanted to let you know I often think about group and how much I learned there. I learned things I didn't even know were learnable. Things I carry with me every day.
I'm very happy to be a part of the group. It's something I look forward to and think about often. I feel like it's slowly bringing me back to where I can function effectively with the world. I'm grateful.
Click the button below to set up an appointment with one of our specialists!
Tori Olds, Ph.D. is excited to again offer this 15-week training called Minding the Heart. Dr. Olds brings 10 years experience as a licensed psychologist and a high level of in-depth training background in all course material. She was asked to be on the national 10-person faculty for the PACT institute bringing interpersonal neurobiology to couples and has a high level of training in mindfulness, somatic experiencing, and systems-centered theory as well.
Topics covered in this series include the application of mindfulness and interpersonal neurobiology, trauma work, attunement training, working with defenses and emotion, tracking the body, and attachment in couples work. We will draw on our many years of training in Accelerated Experiential Dynamic Psychotherapy, Somatic Experiencing, System's Centered Theory™, Psychobiological Approach to Couples Therapy), and Psychodynamic Theory (Object Relations). The meetings will be mainly didactic, but also experiential, with discussion, Q&A, demonstrations, and case consultation. We will also provide optional experiential homework geared toward developing integration in one's own nervous system and will post thorough notes and videos onto our private blog.
This mixed-gender, adult group has members ranging in age from their mid-20s to 50s and has been running for 16 years. Members are deeply compassionate, frequently explore family-of-origin issues, and greatly value vulnerability. Owen brings powerful warmth and insight to helping members navigate their feelings and relationships. Steve's playful inquisitiveness prompts members to uncover unknown parts of themselves and relate to others in new and fulfilling ways
This teen process group allows teens (ages 15-18) to:
Experience real connections post-COVID.

Receive genuine support from peers

Develop healthier communication, relationship, and coping skills

Learn how to deal with stress

Get confidential help with relationships, friendships, loss, breakups, family issues, and more.
Jev has been leading groups for over forty years. He brings humor to his groups and doesn't hesitate to challenge members. All four of his groups on the schedule are mixed-gender and have members with various ages and perspectives.
This group focuses on intimacy and personal growth. It has mostly young professionals (20's through 40's) who work deeply to understand their relationship to themselves and others. Glenn is known for his thoughtfulness and warmth as a group leader.
Sydnor leads structured groups based on System's Centered Theory (SCT). Members must have had individual SCT therapy to join.
This is a mixed-gender adult process group.  The focus is developing understanding and self-awareness through interactions with other group members.
Many of us tend to be our own worst critic when we feel like we have failed. This group therapy experience is intended to help members increase self-compassion by developing kinder relationships with themselves. Topics will include increasing mindfulness of difficult emotions, addressing the inner critic, and recognizing our common humanity. We will discuss ways to accept our mistakes, increase self-forgiveness, and explore new, self-nurturing behaviors. In this group, you can expect a combination of learning, experiencing, and practicing.
This mixed-gender, adult group is open to all ages over 20. Members focus on how they relate to, connect with, and form intimate relationships with themselves, other members, and the therapist, and how this contributes to what is bringing them in for therapy in the first place.
As a therapist, Brian is playful, warm, and emotionally attuned. Brian is also direct and will confront you with what he is observing about how you relate to both yourself and others. If you're looking for someone who can "call you out" you've come to the right place. Brian will be active in helping you explore here-and-now reactions to other members, how this relates to your family dynamics growing up, and how shifting these patterns will ultimately help you heal and feel better. brings powerful warmth and insight to helping members navigate their feelings and relationships.
This is a mixed-gender adult process group open to all ages over 20 focused on building and maintaining relationships. Members are asked weekly to explore their own emotions and reactions to other members with compassion and curiosity in order to work together to deepen relationships.
This is a support group for frontline healthcare professionals to meet, discuss issues (such as healthcare work in the time of COVID), support each other, and possibly eventually challenge each other to grow individually and interpersonally. Primary inclusion criteria would be either holding a healthcare professional job or being someone who works directly with the covid pandemic. That is to say, healthcare professionals who are not on the covid frontlines are welcome. Frontline covid workers who are not healthcare professionals are welcome (for example, a receptionist at a clinic offering vaccines). 
This group is an any-gender Interpersonal Process group for adults up to their early thirties looking to understand themselves and others on a deeper level, and designed to help work through whatever relationship challenges, difficulties with intimacy and connection, or interpersonal blind spots an individual may be facing.
This group is designed for adults whose mothers were:
Neglectful – physically or emotionally
Abusive – physically or emotionally
Chronically misattuned
Largely absent 
The Thurs 11:30 adult group is emotionally sophisticated and working at a deep level.
Charlotte is known for her warm presence and focus on emotional expression. She helps group members learn to embrace authenticity, receive, connect, heal, and love themselves more deeply.
Healing Through Creativity (HTC) is an online, 12-week therapy group at Deep Eddy, focusing on improving mental health by engaging with expressive and artistic activities designed to encourage creativity. HTC is open to ANYONE, not just artists or people with creative jobs or hobbies. It is primarily based on the book The Artist's Way by Julia Cameron, focusing on journaling exercises designed to foster insight and increase self-esteem through self-expression. Starting Thursday, January 19th. Meeting Thursdays from 5:30 to 7pm, running for a total of 13 sessions.
The group is designed to be a safe space for adults who identify as BIPOC (Black, Indigenous, and People of Color) to seek out support related to experiences of marginalization and systemic oppression. This long-term group will also have an interpersonal process component (i.e., typically individuals looking to understand themselves better / improve their interpersonal relationships / have concerns that focus on intimacy and personal growth). Topics are not restricted to racial/ethnic identity or oppression, and group members will have the opportunity to explore and integrate all aspects of their lives.
The group is for adults 18+. This long-term therapy group offers trans, and gender-diverse clients a space to explore interpersonal patterns, struggles, and day-to-day stressors within their embodied, queer experience. This group seeks to provide a safe and affirming space where individuals can better understand interpersonal patterns, and develop new ways of relating to themselves, others, and the world around them.
Drs. Mike Balsan and Aaron Dembe are co-facilitating a process/growth group for men. Meeting on Zoom (for now) on Mondays, at 8am or 5pm. Men's Group is a place for anyone who identifies as a man to come and gain support from each other, to confront the boundaries and expectations of masculinity, to "be in our feelings," and to compassionately challenge one another in the here-and-now to learn and grow as people. Screening is required prior to entry. Accepting self-pay, BCBS, and Whole Foods. Please direct any questions to Mike Balsan and/or Aaron Dembe. 
Recovery is a journey, but you don't have to do it alone.  If you or a loved one are looking for a loving, supportive substance abuse recovery therapy group, look no further.  Led by Deep Eddy therapist Irek Banacyzk, this weekly 90-minute, 8-12 members group offers a safe and supportive environment that can reduce the loneliness and shame around living in recovery.  As we know, those feelings of loneliness and shame often leads to disconnection and isolation, which generally precede problematic and hard-to-break coping strategies.  You (or your loved one) can learn to authentically and deeply relate to others, improve communication skills, bolster emotional regulation, understand attachment needs, and discover healthy, meaningful ways of navigating relationships with yourself and others.  All it takes is a willingness to reach out and start that journey.
Whether you are exploring your sexuality, experiencing sexual dissatisfaction, or living as a survivor of sexual trauma, you can find a space to belong in this group.  This group is for adult women who are interested in joining a collaborative, healing community designed for personal growth and transformation.  Sessions are held on Tuesdays at 6pm starting July 12th on Zoom and cost $50 per session.
This process group is open to all adults of all gender identities interested in exploring and understanding their interpersonal lives.  Members are asked to explore their interpersonal interactions in the here-and-now with compassion and curiosity toward self and other.
This process group is open to all adults of all gender identities interested in exploring and understanding their interpersonal lives.  Members are asked to explore their interpersonal interactions in the here-and-now with compassion and curiosity toward self and other.
A confidential weekly interactive group of 6 to 8 students designed to help members find out more about who they are, where they are headed, and what they want
General process group with predominant themes of job stress, social anxiety, desire for emotional and relational intimacy.
A confidential weekly interactive group designed for teens who are interested in learning more about themselves and relating to others.
30+, mixed gender process group focused on interpersonal communication, relationship building, and emotional expression.
This mixed-gender process group is open to adults of all ages who are interested in better understanding themselves and their relationships with others. Members are encouraged to explore their thoughts and feelings towards other group members in the here-and-now with warmth and curiosity. The group meets each Monday on Zoom from 5:30-7:00 pm.
This group is for individuals with a history of trauma and who experience stress, anxiety, overwhelming feelings, etc.
What to Expect: Yoga/Mindfulness Practice, Psychoeducation, & Group Process
All levels of yoga experience welcome
This is a support/process group open to all mothers (or mothers to be) wanting to gain support, understanding and/or simply process the parenting role. A therapuetic safe space to explore all aspects of parenting (the "good,bad and ugly") and how it may or may not, relate to our own attachment/childhood processes. 
Living with a divergent mind can be challenging. It can be even more challenging to do so alone, especially within a society that does not always understand us. In this 6-week group*, we will share our stories and collective wisdom to bring more self-compassion and intentionality into our fast-paced lives. This group will include time devoted to emotional processing around the ADHD experience, as well as targeted didactic explorations around best practices and healthy habits. Didactic topics will include: self-care, relationships, medications, media usage, as well as old reliable favorites like time management and home organization. Participants will leave with connection to community and practical tools to improve their daily lives.
*Note: this is a shorter preliminary time-bound group, which is piloting concepts to be utilized in future groups. If the timing or format doesn't work for you this round, please still reach out with your preferences and we will contact you next round!
Modern neurobiology has shown us that interactive play does wonders to calm our nervous systems and prime us for social engagement. This 6-week* group will harness such wisdom, as we grow our capacities for genuine enjoyable human connection via play. This group will include some time for  emotional processing, and ample time devoted to playing games and relational activities from the traditions of improv theater and authentic relating.  Weekly foci will include mindfulness, embodiment of emotions, openness to new experience, and self-expression. We also will laugh a lot. Participants will leave with connection to community and a renewed approach to socialization.
*Note: this is a shorter preliminary time-bound group, which is piloting concepts to be utilized in future groups. If the timing or format doesn't work for you this round, please still reach out with your preferences and we will contact you next round!