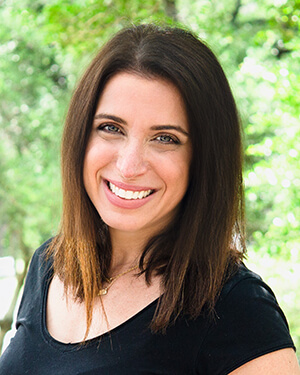 Rachel McCarthy, PsyD
Licensed Psychologist
Pronouns: She/ Her/ Hers
Hi! I'm Dr. Rachel McCarthy.
I am a licensed psychologist, supervisor, and proud member of the Deep Eddy Psychotherapy community.  I provide therapy to kids (8 and up), teens, adults, and families.  I'm excited that you are here to learn more about me, how I practice, and how I can help.  If it feels like we might be a good fit for each other, let's connect!  
Reaching out for professional support is one of the most difficult steps of embarking on the therapeutic journey. Showing vulnerability to a complete stranger can be considerably challenging. Being entrusted with your vulnerability is an honor and privilege and one that I do not take lightly. Because I believe in the power of the individual to make powerful, positive, growth-oriented changes in their lives, I strive to build a relationship of trust with my clients. I believe that this relationship, while not a remedy for pain, provides more space to effectively address and work through discomfort.
My Approach
I celebrate individual differences and would best describe my work as empathic, integrative, and collaborative, taking into account the intersectionality of the client's lived experiences, culture, personal identities, and goals.  I describe my orientation and approach as integrative. To that end, I utilize an anti-racist framework that entails healing and is empowerment centered, strength-based, and culturally informed. I also draw upon developmental, psychodynamic, interpersonal, and systems-informed orientations in order to meet my client's needs.
Clinical Expertise
I have provided therapeutic services for over 10 years to individuals across the lifespan who present with complex trauma, mood and anxiety disorders, interpersonal problems, school and/or work-related challenges, and life and identity transitions. I have received training in and integrate interventions including Child-Parent Psychotherapy, Interpersonal Psychotherapy, play therapy, TF-CBT, Parent Child Interaction Therapy, The Nurtured Heart Approach, and Dialectical Behavioral Therapy. I also employ humor, mindfulness, and strategies from ACT among others.
About Me
I received my doctorate and masters in clinical psychology with a concentration in children and adolescents from the American School of Professional Psychology in Southern California and received my undergraduate degree from California State University at Northridge. My predoctoral internship was at the APA accredited Children's Institute, Inc in Los Angeles, California and my postdoctoral fellowship was with Austin Child Guidance Center in Austin. 
In addition to providing therapeutic services, I have supervised master's level and doctorate level students and have been a part of a leadership team as Associate Director of Clinical Operations. Prior to obtaining my doctorate, I lived in New York City for several years pursuing dance professionally. I was also born and raised in Baton Rouge, Louisiana (Geaux Tigers! Geaux Saints!). So, I have spent my time on all three coasts! Outside of work, I love spending time with friends and family, traveling, listening to live music, trying new foods (and eating), the beach, Harry Potter and most everything Disney, and being a big kid at heart. I am not a fan of horseradish, pineapples on pizza, and scary movies and prefer salty over sweet.