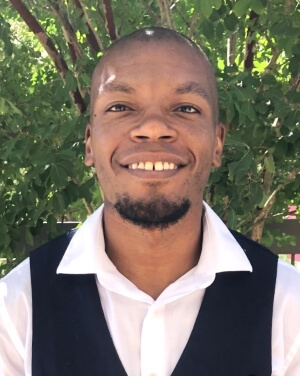 Cordell Spears, Psy.D.
Licensed Psychologist
Pronouns: he/him/his
My Story
I am a Houston guy through and through but have lived in Huntsville, TX and Chicago, IL before ultimately settling down in central Texas. Initially as a young adult, I had no idea what I wanted my career to be. I had a love for adventuring but could not find a career that exactly matched that interest. In addition, I had a love for history but did not view myself as a historian. Therefore, I did not declare a major during most of my first semester at Sam Houston State University. However, I remember sitting in my "Introduction to Psychology" class and being hooked after the first class. As an African American male who grew up in an African American family, mental health was not talked about, and I had no idea what the job of psychologist consisted of but "intro to psych" opened the door to a world of possibilities for me. I have always enjoyed listening, validating and walking with people through their struggles and accomplishments. In addition, I enjoy connecting and relationships thus I see being a psychologist as more than just a career. It is life giving for me, a passion and a part of my identity.  When I am not in the office I enjoy working out, cycling on trails, being with family and spending time with my dogs.  In addition, I am a baseball fanatic and play basketball whenever I have time. My primary passion is playing and collecting video games. I have a PlayStation 5 but I also play and collect some of the older retro consoles and games from the 90's and 80's.
Training
I am a licensed clinical psychologist in the state of Texas. I received my Bachelor of Science and Master of Arts from Sam Houston State University. For my doctoral degree, I moved to the Chicago, IL area to receive a Doctor of Psychology degree (Psy.D.). I completed an APA accredited internship and postdoctoral fellowship at Texas State University Counseling Center, where I provided individual counseling, assessment and group therapy services to individuals.  I have provided individual counseling, group counseling, psychological assessments and neuropsychological assessment services at Sam Houston State University Counseling Center, Chicago State University Counseling Center, Meier's Clinics, and Outreach Community Center. I have been trained as a generalist to provide services for a diverse range of mental health issues to individuals ranging from age 11 to 88.
Areas of interest/specialty
Treatment for mood issues such anxiety disorders/issues, bipolar disorder, stress management and depression
Providing multi-cultural therapy to diverse populations and those who identify as black or African American
Men's issues
Helping clients heal from trauma
Assessment/Testing (ADHD Evaluations, Psychodiagnostic Assessments)
Those in need of support with relationship issues
Those in need of support in their religious or spiritual journey
My Philosophy and Approach to Therapy
The relationship is key. I value relationships, connectivity and the diversity of people. Therefore, part of my work is first building an authentic relationship with my clients. This includes listening to your story, truly validating you as a human (emotions, experiences). I strive to create safety so that you feel comfortable talking about anything and everything you desire to address in therapy. In other words, my goal is to use our professional relationship as a means for your healing. I will approach your experience with a non-judgmental, open and non-biased way.
Emotional processing is courageous and cathartic. In our work together there will be chances to process your emotional experiences in a deep manner. This enhances our relationship but also provides relief and release for you and gives you the opportunity to learn how to sit with and cope with difficult emotions in a safe non-judgmental environment instead of avoiding emotions.
Let's collaborate and create new ways of thinking. I am a cognitive behavioral therapist. Therefore, I also stress helping my clients examine their thoughts, emotions and behaviors in relation to each other. I believe that our thoughts amid distress can be disruptive and maladaptive and that ultimately influences how we feel in the moment and how we respond in our environment (can be adaptive or maladaptive). Therefore, I want to help you become a thought scientist and look at your situations and experiences from different angles. In addition, part of cognitive behavioral therapy is helping you problem solve.
Clinical toolkit. I use a variety of clinical skills and modalities such as self-compassion, teaching coping skills, mindfulness, solution focused therapy, interpersonal therapy (IPT), Emotion focused therapy and motivational interviewing.