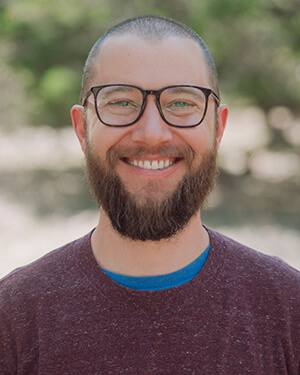 Mark Provence, Ph.D.
Licensed Psychologist
Pronouns: he/him/his
Welcome!
I'm so glad you're looking into therapy as a next step in your life. Finding a new therapist can be a daunting process, but it's ultimately a rewarding one. I hope this page can give you a bit more encouragement and information for your search. 
My specific areas of interest include couples therapy and relationship/attachment work;  grief and loss; depression; trauma/anxiety; LGBTQIA concerns; and spiritual/existential concerns. Multicultural awareness and humility infuses all of my work — regardless of your reasons for seeking counseling, my goal is learn from you and honor your intersecting identities.
Some common goals I've worked on with clients include:
Finding freedom from the things that drain your energy: repetitive thoughts and worries, self-criticism, hiding your full self from others
Improving mood
Reawakening a sense of hope, creativity and possibility
Increasing satisfaction in relationships
Moving through significant losses, including death of a loved one or the end of a close relationship
Working through traumatic or painful past experiences
Regaining with a sense of purpose and meaning
Understanding how culture/community has shaped who you are
My Approach
I've provided therapy for ten years across a range of settings, including family/couples guidance centers, VA clinics, and university counseling centers — and I've learned that therapy looks different for each client. At the end of the day, though, I believe good therapy boils down to three basic ingredients:
Building a relationship. My first job is to create a space where you can express your thoughts and feelings without judgment. Nothing can happen until you feel safe and understood, so I spend a lot of time listening to your hopes and fears about therapy. (Many clients experience relief from this stage alone — because they are finally being heard.)
Telling your story. I will help you explore the relationships, communities, and life events that have shaped who you are. Often this means identifying losses, traumas, or places in your story where you might feel stuck. This may also mean shedding new light on past chapters in your story, or retelling them in a new and empowering way. This is also where you get to decide what you want the next chapter of your life to look like — one of my favorite parts of therapy!
Taking action together. During our sessions, I tend to use a few favorite approaches that I've found meaningful and effective over time. This "alphabet soup" of techniques includes IFS (Internal Family Systems), EFT (Emotion-Focused Therapy), and ACT (Acceptance and Commitment Therapy). In short, these approaches provide a set of practical, research-supported tools to move you toward your goals. I am happy to talk about these approaches with you in more detail, but my hope is to use them flexibly and organically in our work together.
A Bit About Me
I've lived most of my life in Texas, with shorter stints in the San Francisco Bay Area and Washington, DC. While I loved my time on the coasts, I consider central Texas my true home — close to family, friends, and taco joints — and right in the heart of rolling hills, live oak trees, and beautiful rivers.
I'm a huge film buff, and I've always been fascinated by the way movies can generate feelings of empathy and connection to others. Some of my favorite memories involve watching movies with family and friends — musicals, scary movies, superhero adventures, foreign films — and then talking about them late into the night, reflecting on the characters and emotional arcs that amazed us.
Following my interest in human stories and relationships, I pursued a B.A. in English/Creative Writing at Stanford University, graduating in 2006. Studying novels, poems, and plays heightened my awareness of the complexity of human experience and the powerful undercurrents of emotion beneath our day-to-day consciousness. I realized that one of the best ways I could use this awareness — and continue connecting with others — was to become a therapist. I then went on to doctoral studies in Counseling Psychology at UT-Austin, receiving my Ph.D. in 2016.
When I'm not working, I love to spend time with my nine wonderful nieces and nephews, go on adventures with my husband, read all the books and comics I can get my hands on, play the NYTimes Crossword, talk with old friends, watch birds at Spring Lake Trail, and catch up on the latest and greatest movies.