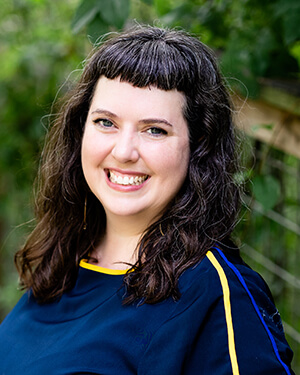 Kate Coffield, LCSW, MA
Licensed Clinical Social Worker
Pronouns: she/ her/ hers
Practice Philosophy
I feel deeply grateful to have the privilege of being a therapist and being able to bear witness to the pain and healing of the clients with whom I work. I believe that therapy can be a place to explore thoughts, feelings, experiences, and parts of ourselves that are in need of compassion and support. I also believe that therapy is one tool that can be powerful in finding balance and meaning – it can be complementary to finding connection in community and finding hope in participating in broader movements for peace and justice.
There is so much that is difficult and scary in the world and we all are navigating dynamics that cause us pain. I work to offer clients a space to process the injuries they carry from the broader world and also from the intimate world of family, friends, and other relationships. I invite clients to bring the complete selves, even the parts that are hard to be with. It is not easy to allow a new person in, and I invite open discussion of whatever questions or reactions you might have to the work of therapy. I strive to provide the tools and support to help clients connect to a fuller sense of aliveness and groundedness.
I value honesty and trust, and in therapy I work at my client's pace as we build trust together. I actively encourage clients to share their reactions to our relationship – which is another way of saying that I welcome feedback from clients about how they are feeling about therapy. I am deeply interested in amplifying the strengths and creativity that each person possesses. I believe that body, mind, and spirit are inseparable and I work to create more flexible and integrated connections between all aspects of self.
Specialties
I have experience working with clients around a number of issues, including: anxiety and depression, childhood trauma such as sexual abuse and neglect, unexpected loss, unhealthy and abusive relationships, core shame, and adoption related trauma. I enjoy working with clients with varied identities and I do my best to provide a safe and affirming space for clients who face systemic oppression. As a white woman, I am committed to unlearning oppressive values and practices and welcome questions about that. I am bilingual in English and Spanish and value the opportunity to work with clients whose lives have been shaped by migration.
I have specialized training in working with trauma, including training in the Neurosequential Model of Therapeutics and Trauma Focused CBT, and the beginning level of Somatic Experiencing. I use a relational model, as well as Internal Family Systems and CBT.
Background
I grew up just up the road from Austin in Temple, Texas. After attending college in a suburb of Chicago, IL, I moved into the city and stayed for the next 14 years. During my time in Chicago, I mostly worked in the nonprofit world around issues of domestic violence and as a community-based doula. I attended grad school at Loyola University of Chicago, where I got an MSW and an MA in Women's Studies and Gender Studies. I also had the opportunity to participate in their migration studies subspecialization and completed my first-level internship near beautiful Guadalajara, México. There are so many things I love about Chicago, and I still miss it, but in 2019, it felt like time to return to my beloved Texas! Outside of work, I love to spend time outside hiking, looking at birds, or reading a good book. I love puns and sharing a tasty meal.
Be taught now, among the trees and rocks,

how the discarded is woven into shelter,

learn the way things hidden and unspoken

slowly proclaim their voice in the world.

Find that inward symmetry

to all outward appearances, apprentice

yourself to yourself, begin to welcome back

all you sent away, be a new annunciation,

make yourself a door through which

to be hospitable, even to the stranger in you.