Ana De Leon, LPC-Associate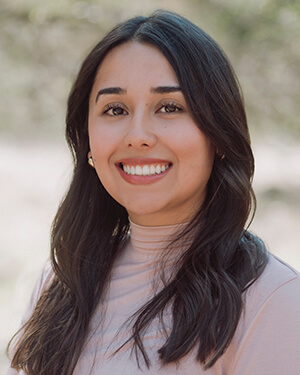 Ana De Leon, LPC-A
Supervised by:
Latifa Ward, LPC-S
Pronouns: she/her/hers
Hello and Welcome! Whether you seek therapy to help restore balance in life or you are simply trying to invest in your mental health, I am so glad you found us! 
To say "life is hard" is putting it subtly. Sometimes, unexpected events profoundly impact us, and we are left wondering how to pick up the pieces. I believe that individuals become the person they are today through life experiences, thus shaping their worldview and how they think, feel, and behave. Therapy can help explore and better understand those thoughts/emotions/behaviors. My approach to therapy is Person-Centered and eclectic. Using a multimodal approach allows me to look to the client to indicate their needs and utilize techniques that best help their healing process. I tend to borrow techniques from Cognitive Behavioral Therapy, Relational- Cultural, and Mindfulness models.  
I deeply value diversity and inclusivity and prioritize practicing in a culturally competent manner. Through all of my work, I aspire to maintain a commitment to social justice, the elimination of systemic oppression, and multiculturalism. Connecting with my clients is of the utmost importance to me, and I aim to hold a safe and comfortable place where my clients feel empowered to be their most genuine selves. My goal is to offer acceptance, connection, authenticity, and empathy as I walk alongside you in your journey of healing and self-fulfillment. You are not alone! 
Clinical Experience & Interest
I am a bilingual therapist and have focused working with the adolescent and adult population. My areas of clinical experience and interest include: 
Depression
Anxiety
Self-esteem

 

Trauma/PTSD
Grief/loss
Domestic violence/Intimate partner violence

 

Substance use
Life Transitions & More

 
Background
I am Mexican-American and originally from south Texas. My family primarily resides in Monterrey, Mexico, so I find myself visiting often and enjoying the perks of homemade Mexican food. I graduated with a BA in Psychology from the University of Texas Rio Grande Valley, and in 2018 I moved to Austin and started life as a graduate student. I graduated with an MS in Clinical Mental Health from Walden University. 
When I'm not working, you can find me binge watching Netflix/Hulu, walking my two pups, exploring the Austin food scene (my love for tacos & pizza runs deep), cooking up new recipes, and spending quality time with my family and friends.