Charlotte Howard, Ph.D., CGP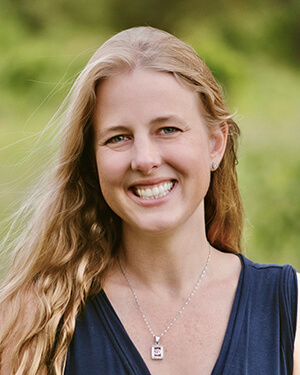 Charlotte Howard, Ph.D.
Licensed Psychologist
Certified Group Psychotherapist
Pronouns: she/her/hers
Practice Philosophy
People are naturally resilient with the right support. Therapy facilitates the healing process by helping you deeply understand and love yourself, with compassion, so your presenting concerns can be effectively addressed. The approach I use varies to fit the style and presenting issues of each client. Some clients place greater importance on alleviating symptoms quickly, while others want to address the underlying causes of these symptoms so that more substantial inner growth and self-love can occur. Typically, I take a holistic approach combining in-depth traditional talk therapy with more recent, empirically-validated and present-focused approaches. I sometimes act as a life coach, helping clients change behaviors and discern choices that lead toward the lives they envision. My predominant focus, however, is guiding the kind of deeper exploration that results in real inner transformation, personal fulfillment, and learning to love yourself.
Most of the struggles and pain that bring people to therapy are based on experiences in past and present relationships, and what we learned about ourselves from those relationships. Exploring the grief, losses, joys, and disappointments of your life, how you developed to cope with these, and how they inform how you feel about yourself, leads to insight, awareness, and emotional intelligence that is vital to healing and growth. An important component of this process is the therapeutic relationship—your feelings in relationship with me, and what you learn about how to love yourself through this relationship—as we make this exciting journey together.
Specialties
One of my favorite areas to work with is parenting.  We have a separate page dedicated to talking about it and I am passionate about helping people in this area.
Love Yourself
Over the past 10 years in practice I have seen a consistent theme of underlying pain stemming from a lack of self-love. Loving yourself is what provides resilience when you make mistakes or get hurt in relationships. You are not alone if you are critical and mean to yourself or feel ashamed of who you are. Through that lens, everything looks bleak—not even successes, love and closeness with others can be fully enjoyed. Shame prevents full connection and the ability to be open and free. It can also lead to self-destructive, addictive, or numbing behaviors.  When you don't love yourself, you may even unintentionally choose partners or friends who don't value you either and reinforce your skewed self-image.  Your negative view of yourself is not your fault. It means you didn't get what you needed to feel valued somewhere along the way. Those wounds that lead to not loving yourself can be healed with the right care. I enjoy joining clients on a rescue mission for their true selves and helping them discover and own their inner beauty and worth.  It is truly possible to love yourself and have a nurturing relationship with yourself, letting go of the burden of shame and self-hatred. You will find self-love changes the quality of every aspect of your life.
Stress & Social Anxiety
I also specialize in relieving social anxiety, stress, tension, & panic disorders. Many of my clients are highly successful and driven, and find stress beginning to decrease their quality of life.  High stress is not necessary to perform well and succeed in busy lives–stress can be minimized without affecting efficiency and productivity.  Many times stress is fueled by underlying feelings of inadequacy and fear of failure or need to be perfect.  Together we can help you hold yourself and your life in a way that brings you peace–with self-respect and self-love.
Social anxiety is another form of stress that is crippling for many of my clients.  Their lives are limited by where they feel comfortable and they often long for more contact and connection but are scared to go after it or don't know how. Social anxiety, though overwhelming, is actually not difficult to treat.  My background in movement and body awareness provides the foundation for walking you through the latest researched interventions for stress and social anxiety. These include mindfulness, cognitive interventions, and relaxation training for clients wanting to learn coping strategies in addition to addressing the underlying causes of the anxiety. Group is also a powerful way to address and change social anxiety.  It helps you learn to love yourself and understand yourself in relationship. Exploring your beliefs and feelings about yourself and others creates confidence and comfort with who you are and with connecting with others (see the group section below).
Existential/Spirituality
Another specialty of mine is helping clients understand their life purpose and feel a sense of meaning and inner sustenance. Research shows that therapy is most effective when it incorporates and builds on clients' strengths. In addition, the majority of actual clients surveyed in large studies report wishing their spiritual lives were addressed in therapy. If you are part of this group, I encourage you to bring this desire up with me. We can utilize your spiritual perspective and experiences in understanding your life and who you are, and in discovering a future that is consistent with your sense of what is important to you. Self-love also plays a large role in meaning and connection to life. Learning to love yourself can powerfully transform your experience of life and existential peace.
Executives, Therapists, & Health Care Providers
I am passionate about helping those who help others or who make decisions that impact many. Restoring leaders who are worn down by the high demands of their careers and families, so that they can simultaneously continue to contribute and also feel great about their lives, is highly fulfilling. I end up doing a fair amount of business coaching incorporated into therapy.  A relatively large number of my clients are therapists or therapists-in-training and I greatly enjoy bringing nonjudgemental, deep holding and exploration to fellow therapists. I also have groups with many therapists in them if you are looking for an emotionally-sophisticated group.
Couples & Groups
Couples counseling and group therapy are ways of addressing in real time the emotions that come up in relationships and how we respond to these feelings in ways that serve us and ways that don't.
Group is 90 minutes a week in a group of 10-12 people exploring feelings in relationship.  In group we observe the nuances of how people relate to each other and then understand how these subtleties cause and maintain their problematic patterns in relationships. Members begin deeply understanding who they are in relationships, which allows greater flexibility, awareness, and choice. Exploring how we feel with, and respond to, others exposes where we need healing of past wounds and no-longer-effective coping strategies, and reveals the way to healthy connections, self-care, and a sense of meaning.
In Couple's work, couples speak honestly about their feelings in the relationship. They are able to understand and address the sources of pain while learning to effectively nurture the seeds of potential. As their communication patterns change, they often find the real compassion and understanding that they have been longing for from each other. Couples are often surprised by how quickly they can return to love and commitment with the right support making adjustments to key outer and inner aspects of their relationship.
Background
I attended Middlebury College in Vermont and was one of two people granted permission to create my own major, which I called "Therapy as a Synthesis of Mind, Body, Spirit, & Sense of Place." This major combined modern dance, environmental studies, literature, psychology, and religion, providing a foundation for my holistic and multidimensional therapy approach. I received a full fellowship to graduate school in Counseling Psychology, only awarded to a handful of incoming graduate students at the University of Iowa. While receiving my doctorate I taught movement improvisation and Authentic Movement, a therapeutic movement form, in the dance department. I also taught Developmental Psychology and saw clients for therapy in several schools and Universities, and one Women's Resource & Action Center.
My internship was at the University of Texas Counseling & Mental Health Center working with college and graduate students and taking referrals from the physicians at the Health Center to address physical health issues that are tied to mental health, such as eating disorders, headaches, tension, panic attacks, digestive problems (such as irritable bowel syndrome), sleep disorders, and chronic pain.  I also led a technique-based group for reducing social anxiety and stress. In addition to my Ph.D., I also received 5 years of training in holistic healing at the Jaffe Institute for Spiritual & Medical Healing. This training provides the basis for the existential work I do, as well as allowing me to easily incorporate clients' spiritual lives into their healing process when they request it.
Other
One of the few Austin psychologists who is a Certified Group Psychotherapist.
Recipient of the Presidential Fellowship at the University of Iowa awarded each year to only a handful of the thousands of incoming graduate students
Led over 1800 psychotherapy groups
Past presenter at the American Psychological Association, as well as the American Group Psychotherapy Association
8 research publications in national & international professional psychology journals
Creator of YourselfTruly.com online program to help women love themselves
Author of self-help book for couples,

 

Awaken to Love
Special training in Relationship Issues, Anxiety & Panic Disorders, Existential Concerns, Parenting, & Group
Additional areas of clinical experience: Depression, Bipolar, OCD, Eating Disorders, Personality Disorders, IBS, parenting, sexual concerns, Sleep Disorders, gender and sexual identity issues, life/career planning & motivation, chronic headaches, loss & trauma, and more.
Clients' Experiences
(from unsolicited thank you notes–all identifying information removed)
"I think next you will have to compile "Charlotte" the app so subscribers will have access to all the love and beauty that is you. I have a lot of regrets in my life, which we are working on, but I truly would have known regret had I not met you. Thank you for all you do for me and my family."
"I owe you a world of gratitude–yet again–for caring for my heart so perfectly. Your caring words actually broke through, even in the face of some of my most stubborn depression.  You have done SOOO much to improve my life. Thank you, thank you, thank you."
"Went to a new doctor today in Nashville and he was nothing like you! Called [partner] afterward saying how much I miss you and your wonderful advice. Thank you for all that you have done for me. I feel 10x better after having seen you. So thankful. "
"I just want to thank you for everything. You were the first therapist I felt comfortable with and the first I saw any positive changes in myself with."
"I wanted to thank you again for our session today. I feel like it woke me up to the present and how exciting life can be if I focus on the positive and believe in myself."
"Also, I always mean to tell you THANK YOU from the bottom of my heart. You changed my life….I have no idea where I'd be otherwise. You're just so very important to me and every moment we have together is a real blessing. So thank you for helping me find my true authentic self and sitting with me and my feelings!"
"Also, I just wanted to compliment you on using our time really productively to come up with good strategies. I felt like you understood things very quickly, and gave a lot of good advice. You seem to navigate emotional stuff super intuitively."
"…and you are, as I described, one of the most down-to-earth, real, judgment-free, and sensitive souls in the business."
"In my heart and mind I know that my relationship with [my husband] and with my family and friends are richer and deeper because of the tools that you gave me. I want to sincerely say thank you and tell you that my life is forever changed for the better because our time together."
Awaken To Love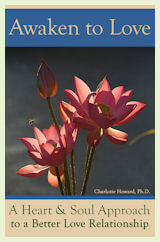 I wrote this book to help you in your relationships and use your relationship as a way to grow spiritually and to heal yourself and your partner. Awaken to Love combines the wisdom from spiritual and psychological approaches to transform and enrich the love between partners. It is for spiritual people, of any religion or spiritual path, who are ready to heal or deepen a committed relationship.
"Awaken to Love engages the heart, mind, & soul of the reader. Dr. Howard has given us a unique, brilliantly-written spiritual & psychological guide to long-lasting, deeply-felt, heart to heart relationships."
— Hannelore Hanson, Order of the Sisters of St. Francis
Available through Amazon.com, by clicking the "buy now" button below to purchase online through Paypal.
Notes Received from Readers
"We are reading your book together and it is been a miracle for us individually and as a couple."
"The book you loaned us by Charlotte Howard is marvelous. We read it aloud to each other while we were at the beach, and we actually had opportunities to do what she suggested when things come up. We spent some deeply spiritual time with each other, and emotional issues arose. Having the suggestions from Dr. Howard were very helpful. And they worked! And brought us ever closer together. We are so grateful you shared this book with us. I think I'll have to get my own copy. Thanks again."
"It is a delightful, loving kind and gentle book – she has done a great job describing the self talk necessary to allow love to expand in your heart and has brought me to tears several times – I look forward to savoring it for a while – please tell her for me what a nice job."