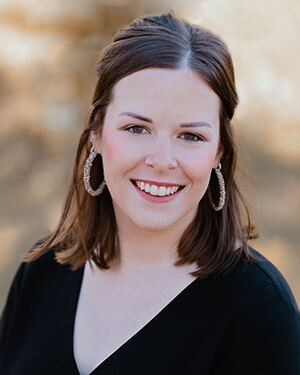 Mimi Walke, LPC
Licensed Professional Counselor
Pronouns: she/her/hers
Welcome!
Finding the right therapist can be a stressful process. Hopefully, by reading some information on my page, you'll gain some clarity on if we will be a good fit! Just remember, you're doing something that is beneficial for you and those around you, and that is a big step in the direction of self-care and wellness. You deserve to be heard, validated, and to have a place where it's safe to express how you feel. So, high-five for making it this far!
Practice Philosophy
Do you ever feel misunderstood, alone, or overwhelmed by your daily responsibilities? Therapy can be a great way to learn to build coping skills for your anxiety, depression, or any other mental health challenges you may be facing. Therapy can also help you set goals, work on boundary setting, communication skills, and processing past events that have left lasting marks in current relationships. It's important that I provide a safe space for clients to express their feelings, needs, and wants and that I can offer feedback that challenges them to grow and heal!
I use a person-centered approach to counseling, meaning I think that building and maintaining the therapeutic relationship can be one of the most important parts of therapy. As humans, we are social beings that crave connection, to be heard, and understood. We will work together to understand your thoughts, feelings, and behavior in the context of your relationships and your life. Many therapists choose their career because of personal mental health experiences which motivate them to help others and make a difference. Clients can expect me to be myself in session just as much as I expect them to be their authentic selves. I don't believe therapists should be thought of as unrelatable just because they are sitting on the other side of the room.
In my career, I have had the opportunity to work with people varied in age, culture, ethnicity, gender identity, race, religion, sexual orientation, and socioeconomic status. I recognize the way our various identities shape how we experience the world. Our past may shape us into who we are today, but it doesn't have to define who we will be tomorrow and all the days after. We can work together to identify the impact your past experiences have left while empowering you to create the change you want in your life. I look forward to seeing you take back control and boost your self-esteem in the process!
Specialties
I treat teens, young adults, and adults for individual counseling in the following areas: ADHD, Anxiety, Bipolar Disorder, Borderline Personality Disorder, Conflict Resolution, Coping Skills, Depression, Family Conflict, Life Transitions, Narcissistic Personality Disorder, OCD, Peer Relationships, Relationship Issues, School Issues, Self Esteem, Self-Harm, Stress Management, Suicidal Ideation, Trauma/PTSD, and Women's Issues.
I have experience working in an Intensive Outpatient Program (IOP) in group settings for two years and in a private practice for two years. Additionally, I have specialized training in working with clients with personality disorders through Dialectical Behavior Therapy (DBT). I also incorporate Cognitive Behavioral Therapy (CBT), Mindfulness, Solution Focused Therapy, Acceptance and Commitment Therapy (ACT), Family Systems, and Strength Based Therapy.
Background
I am originally from Baton Rouge, Louisiana and obtained my BS in Human Resource Education at Louisiana State University in 2015. While working for the LSU Academic Center for Student Athletes, I went on to receive my Master of Education with a concentration in Clinical Mental Health Counseling at Louisiana State University in 2019. In my free time, I enjoy watching live music, visiting with family and friends, and cheering on the LSU Tigers. I also am a proud mom of two cats, Tator Tot and Sushi.