Ashley Johnson, LCSW-S, LCDC-I, MSW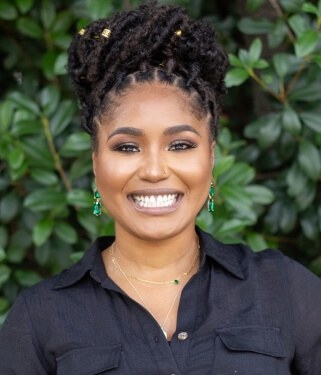 Ashley Johnson, LCSW-S, LCDC-I, MSW
Licensed Clinical Social Worker – Supervisor
Pronouns: she/her/hers
Hi!
You have already come so far by even taking this step to seek deeper insight and maintain mental wellness. When you choose a new therapist to add to your wellness team it is important to have the right fit to build your therapeutic alliance. Thank you for considering me as your possible therapist and allowing me the opportunity to be part of this process. The descriptions below will help you get to know me better to inform your decision to team up.
Practice Philosophy
We often feel overwhelmed, misunderstood, or stuck in cycles of dysfunction in our lives. We allow emotions to choose our day and give away our power to unhelpful thinking. Therapy offers us a safe place of refuge, validation, and hope apart from our uncertain circumstances. The therapist and client develop a mutually respectful and healthy relationship built from developed trust and compassion. Within this domain, my goal is to deepen your insight, self-awareness, and help you practice kindness accepting that which is truly you. Together we will consider healthy perspectives and identify patterns that perpetuate unhelpful cycles.
My approach to therapy is collaborative, in that I will work alongside you to help you practice kindness, acceptance, and find your unique fulfillment. My modalities utilized include Cognitive Behavioral Therapy, Dialectical Behavioral Therapy, Person-Centered Approach, Solutions-Focused Techniques, Strengths-Based Therapy, Narrative Therapy, Positive Psychology, Motivational Interviewing, and Mindfulness-Based Practices. We will work together to understand your thoughts, feelings, and behavior within the context of your relationships and your life. I am open to being flexible and creative in terms of helping you express yourself in a way that feels meaningful and productive for you, as I believe our bond will be a therapeutic relationship where you also teach me how to treat you.
I look forward to helping you work through this moment in your life, rediscover your essence, and connect with your purpose!
Specialties
I specialize in treating adults in individual therapy with the following challenges:
Anxiety

Work-related Stress Management

Life Transitions

Depression and Mood Disorders

Borderline Personality Disorder

Trauma

Conflict Resolution

Coping Skills

Relationship Issues

Self-esteem

Women's Issues
Background
I am originally from San Antonio, Texas, and received my bachelor's degree in Social Work at the University of Texas at Austin. During my undergraduate work I had the opportunity to study abroad in Accra, Ghana. After my ungraduated studies, I stayed in Austin for a while to continue working overnight at a shelter for survivors of sexual and domestic violence for women, children, and transgendered women.
I went on to attain my master's degree in Clinical Social Work from the Graduate College of Social Work at the University of Houston. I spent two additional years in clinical supervision working in hospitals, crisis mobile mental health, and facilitating groups to attain my independent clinical license. Thereafter, I spent time in clinical practice to build expertise to become a Licensed Clinical Social Worker Supervisor. Most recently I have broadened my scope of practice to include my Chemical Dependency Counseling license. In my free time, I enjoy practicing yoga, singing, spending time with family and friends, cooking, and traveling.