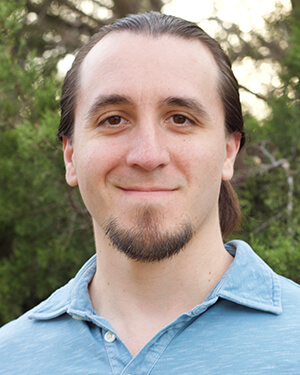 Alex Sands, LCSW
Licensed Clinical Social Worker
Pronouns: He/Him/His
You shall be free indeed when your days
are not without a care nor your nights without
a want or a grief,
but rather when these things girdle your
life and yet you rise above them naked
and unbound.

— from "On Freedom" by Kahlil Gibran
Practice Philosophy and Areas of Specialty
My practice combines elements of acceptance and commitment therapy, narrative therapy, ecotherapy, and stoic and existential philosophy, among others, and leans heavily into the dynamic and ever-emerging collaborative relationship between client and therapist, drawing on principles of interpersonal neurobiology and theories of attachment. My work is trauma-informed and grounded in meaning-making and the identification and practice of values: ways in which we can live more vitally, authentically, and in a manner that is in accordance with who we envision ourselves to be.
So what does that mean?
Basically, I believe that no one is an island. No one is perfectly self-sustaining. And no one suffers – or rejoices – in a vacuum. I believe we are all mutually interdependent and inextricably interwoven within and among ourselves, each other, and our environment; and that healing and growth are brought about through genuine relationships not only with ourselves, but with the world around us. As a social worker I try to bring these perspectives into action in my practice, and always with a focus on a client's strengths.
Broadly speaking I am open to working with young adults and adults ages 18-65. I conduct sessions in American English. Some examples of topics we may focus on together include:
Depression

Anxiety (generalized, social, climate)

Self-esteem and self-efficacy

Stress and anger management

Social/communication skills

Men's issues

Relational/developmental trauma

Life transitions/adjustments
Human Healing in More-than-human Spaces
There's no doubt that psychotherapy entails a unique and highly specific kind of relationship between people. When you hear the word "psychotherapy," your mind may conjure images of a small, softly lit room filled with calming sounds, muted, neutral colors, shelves of books, and a person seated in a chair across from you, perhaps jotting unseen notes, asking you how you feel about this or that. Perhaps this image is comforting to you; perhaps it fills you with a sense of dread. Perhaps it turns you off from seeking therapy in the first place.
I would like to challenge this perception of the therapy office as the only space where therapy can occur. Or, rather, I would like to expand upon it – to include not only the small, softly lit room, but also the local parks, the rivers and creeks and trails, and all the outdoor spaces reasonably accessible to us, in an emerging form of psychotherapy broadly known as ecotherapy. As human animals, many of us seem to know intuitively that being outdoors has many benefits: to our bodies, our minds, and our spirits. Modern research in ecopsychology and ecotherapy tells us that this intuition is essentially accurate. As a treatment model, ecotherapy seeks to employ the healing potential of the natural world to our advantage in the therapeutic relationship and is intended to foster a more democratic, less hierarchical arrangement of client and therapist that involves the natural world as an intrinsically healing third element, making nature a sort of co-therapist. That said, if you find such a thing to be conducive to your own healing or growth, in working with me you can expect to spend some time outside (literally) the traditional boundary of the office if you so choose.
A Bit About Me
My name is Alex (he/him/his), and I'm a licensed clinical social worker, born and raised in Texas – originally from the greater Houston area, but I've been in Austin since 2010. I earned both my bachelor's and master's degrees in social work at the University of Texas at Austin and I've been active in the field since 2018, practicing primarily in acute inpatient psychiatric settings as a case manager, therapist, team leader, and administrator.