Herlinda Tin Jordan, PsyD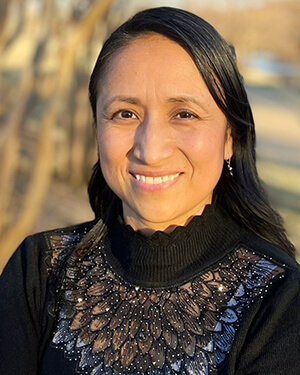 Herlinda Tin Jordan, PsyD
Postdoctoral Fellow
Pronouns: She/Her/Hers
Supervised by: Matt Snapp, PhD
Hello!
Hello/Hola! My name is Herlinda Tin Jordan. I am one of the Postdoctoral Fellows here at Deep Eddy Psychotherapy and my supervisor is Dr. Matthew Snapp. I wanted to share a bit about myself and how I approach therapy to help you decide if we might be a good fit.  If you are interested, please let our scheduling team know – I would love to meet you!
Practice Philosophy

My goal is to foster a strong therapeutic alliance and facilitate client growth while also assisting in symptom relief. First, I believe in establishing rapport.  Then, we can look at readiness and ability to change. I am passionate about supporting children and their families:  I have experience working with Latinx families, military families, recent immigrants, and those of culturally diverse backgrounds.
My passion for working with families, in particular Latinx families, inspired me to attend a program that offered a concentration in Latino Mental Health.  It is important for me to understand the differences and similarities of different cultures.  Similarly, understanding individuals for their own unique experiences and meeting them where they are is foundational to my clinical practice. The love of my children has afforded me a deeper level of insight into the value and the importance of social emotional health.  My professional mission is to be able to assist children and families to learn the necessary tools and to empower them to embrace social emotional health in their daily living.  I believe that every individual, child, and family, equipped with the right tools and resources, can excel.
Emotions are driven by various factors (e.g., personality, culture, social roles) and I believe every experience is unique to each individual. There may be times when we feel overwhelmed or we may not be able to see the light at the end of the tunnel.  It is in those moments when we may need some support and for someone to help us through those challenging moments by teaching us skills. As your therapist, my goal is to provide a space where you feel safe and comfortable; a place where you can be vulnerable and feel supported. I practice a collaborative approach, and my goal is for us to work together as a team. It would be a priviledge to walk side-by-side with you in this journey we call life. My approach to addressing your needs will be an eclectic-collaborative approach that pulls from various theoretical perspectives and evidenced-based practices, which are tailored to your specific needs.
Latino Community 

Young Adults 

Parents 

Adults

Families (Military/Latino)
Self Esteem

Relationship Issues

Anxiety

Coping Skills

Depression

Family Conflict

Life Transitions

Peer Relationships

Stress

Trauma and PTSD

Parenting
About Me
I grew up in Tejutla, a municipality in the western highlands of Guatemala until I was eight-years-old.  I then moved to San Francisco, CA where I lived most of my life until I moved to Boston, MA to pursue my Masters of Arts in Counseling Psychology and Doctor of Clinical Psychology degree, both with an emphasis on Latino Mental Health. I then moved to Texas and started a family. I now have two beautiful multicultural/trilingual children. As a Latina who has lived in Guatemala, California, Massachusetts, and Texas I have learned the importance of diversity and inclusion, and how special and unique each experience can be. I approach individuals with an open mind and heart. 
I am married to a service member.  As a family, we love to host our friends, play board games, camp, and bike.  My husband and I also love salsa dancing—that's how we met 😉—and cooking meals together.  I look forward to starting this journey with you!