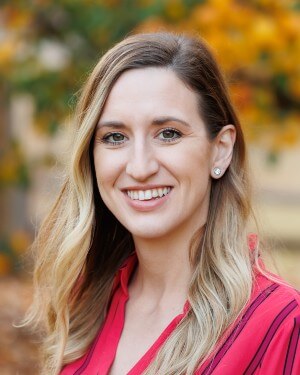 Jennifer Eklund, LPC
Licensed Professional Counselor
Pronouns: she/her/hers
Hey y'all!
I'm Jennifer and I am so grateful you're visiting my profile. Counseling is BIG stuff and it takes courage to start the process. Finding the right therapist for you (or your child/teen) may arguably be the most important part of the counseling process. 
There are many reasons someone may be seeking counseling whether it be for the first time, or deciding to restart therapy. You may not be feeling like your usual self lately; lacking motivation, having trouble making decisions, sleeping too much or having trouble falling asleep, or feeling "stuck" in life. You may find your thoughts racing or even notice physical changes such as headaches, weight gain/loss, or generally feeling "off." Stress seems to be your norm these days and things just feel completely overwhelming. Parents of teens, are you feeling like things are out of control? Maybe your teen is participating in risky behaviors, isolating themselves, struggling academically, constantly fighting with you, and won't open up about anything. You're worried about the changes you see and feel it's time to seek outside help.  
I am a Licensed Professional Counselor (LPC) and a Professional School Counselor in Texas, Florida, and Kansas. I see adolescents, teens, and adults aged 12 and up. Here is a little more about me and my therapeutic approach to wellness…
Practice Philosophy
I believe my clients are fully capable of growth and success in the therapeutic process when they work with a therapist that fits their unique needs and work toward specific goals. Therapy provides a safe, non judgemental, restorative environment where lasting change can occur. It is a place to dig a little deeper and come out a whole lot stronger. My approach to therapy looks at the whole person; physical, mental, and social. There are so many factors that affect our mental state; relationships, friendships, diet, exercise, specific habits, past experiences, present stressors, and more! Examining our patterns of behaviors and thoughts can lead to tremendous growth in our overall well being.
Depression

Anxiety

Stress

Relationships, including divorce & infidelity

Life transitions

Self-esteem

Risky behaviors

School-related concerns

Establishing new habits

Career-related stress and fulfillment
Background:
Born and raised in Wichita, Kansas.

BA in Psychology from Wichita State University (Go Shockers!), MS in Counseling from Fort Hays State University.

I started my career as a School Counseling at a Middle School in Florida.

Additional certifications in Grief and Loss, Stress and Anxiety, Children with Special Needs. 

I am a proud momma to my sweet (and busy!) little daughter.

Outside of being a therapist, I love getting outside and getting exercise. Anything from hiking to running races to gardening, you can count me in! I also enjoy time with my family, cooking, and traveling. Let's not forget football season!
Adolescents and teens (12-18 years old)

College students

Young adults

First responders

Prenatal & Postpartum mothers

Adults (18-65)
Cognitive Behavioral Therapy (CBT)

Existentialism

Strength-Based

Solution-Focused

Mindfulness-Based

Holistic
Offerings:
I am currently accepting teletherapy appointments with Saturday and some evening availability.
Ready to connect? If you feel like I might be a good fit for your counseling needs, just click the link below or give us a call and our schedulers can help us find a time that works for you. It would be an honor to hear more about your story!