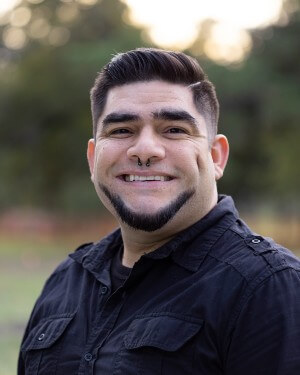 Leo Chavez, PsyD
Postdoctoral Fellow
Supervised by: Erica Mathis, PhD
Hello and Welcome!
Thank you for taking the time to view my page while you consider your potential options for a therapist. 
Embarking on a journey such as one that you have chosen can feel risky, even scary – and that's okay!  However, the important thing to remember is that you have taken the first step, which is something to be acknowledged and celebrated. 
Whether you are looking to help process a recent hardship you've experienced or you simply just want somebody to talk to, I look forward to the opportunity to provide you with whatever type of support you need in the moment to help promote growth and resiliency.
Clinical Interests and Areas of Expertise
I work with Teens and Adults with a wide range of needs and goals through individual therapy and assessment.  
Here are some of the things I work best with:
Anxiety and Social Anxiety

Depression 

Empowerment and self-esteem issues

Trauma-related concerns and PTSD

Post Traumatic Growth

Anger management 

Relationship problems 

Sex and sexuality-related concerns

LGBTQ+ related issues 

College students and graduate students

Life transitions

Identity development 

Grief and loss

And more
About Me
I'm a native Texan and originally from San Antonio (or as I like to refer to as San Anto or San Antone), but have lived in Indiana from 2017 to 2021, where I attended graduate school and graduated with my PsyD degree from the University of Indianapolis. Additionally, I lived in Fort Lauderdale, FL, for a year while I was completing my APA-accredited internship. Prior to my completion of my doctoral degree, I graduated from the University of Texas at San Antonio (GO Roadrunners!), where I obtained a bachelor's degree in Psychology and a bachelor's degree in Criminal Justice. 
My personal interests include a wide array of many different areas, everything from music (listening and playing) to cooking… I believe that we have such a short amount of time on this earth that we may as well fill it with things that bring us joy and happiness. Additionally, I love attending concerts and festivals, traveling, spending time with family and friends, and learning new things (particularly new foods because I'm such a foodie) from different cultures around the world.
My Therapeutic Approach
My approach to therapy is one that practices an eclectic approach where I pull from many different therapy styles in order to best fit the needs of my clients. I am foremost a humanist where I mostly utilize techniques from Person-Centered therapy and place a significant emphasis on the therapeutic relationship as this is key. I believe no true therapy can occur without a strong therapeutic alliance in place. That being said, I want you to keep in mind that this is YOUR therapy, and you have the right, as the client, to dictate how your treatment looks and the way it moves forward, and if you see fit, in collaboration with me as your therapist. Additionally, I will pull from many different therapy approaches such as: biological approaches; cognitive behavioral approaches; and psychodynamic approaches. What approaches will be utilized, how therapy will look, and the course of treatment will be discussed with you at the onset of treatment, and will be adjusted as necessary moving forward. 
Curious to learn more?  Me too!  Consider scheduling an initial appointment so that we can get to know each other better.