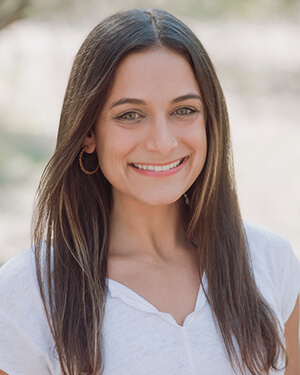 Anna Cohen, LCSW
Licensed Clinical Social Worker
Pronouns: she/ her/ hers
The task of finding a new therapist can be difficult and overwhelming. Thank you for considering me as your therapist, and I appreciate the opportunity to walk alongside you in your personal journey. This bio will help you understand my therapeutic approach to assess whether we could be a good fit.
Practice Philosophy
When we feel stuck or challenged in life, therapy provides an opportunity for healing, growth, and self-understanding. Most importantly, it provides a place for hope. The best way for this to occur is within the context of a supportive, trusting relationship between therapist and client. My goal in our sessions is to foster a safe, therapeutic environment free from judgment. I will listen with compassion to help you understand patterns that may be leading to stress, frustration, or other difficulties. Within this space, I will aim to support you in building self-awareness, increasing self-esteem, and exploring the root causes behind troubling emotions and feelings.
My approach to therapy is collaborative, in that I will work alongside you to help you find fulfillment and authenticity in your life. I use a primarily psychodynamic therapeutic orientation,  meaning that I focus on helping identify what underlies your struggles. We will work together to understand your thoughts, feelings, and behavior within the context of your relationships and your life. I have been known to incorporate art, movement, mindfulness, and self-reflective journaling into my sessions. I am open to being flexible and creative in terms of helping you express yourself in a way that feels meaningful and productive for you, as I understand in-depth traditional talk therapy may not work for everyone.
I have had the privilege to work with people diverse in age, culture, ethnicity, gender identity, race, religion, sexual orientation, and socioeconomic status. I incorporate an intersectional framework within my work, in that I recognize the way our various identities shape how we experience the world. We are fully affected by our past lived experiences, and I will work with you to identify these impacts while empowering you to create the change you want in your life.
I look forward to working together to discover your process of healing, and I admire you for taking the first step.  
Specialties
I treat children, adolescents, adults, and families. I also specialize in the following areas: ADHD, Anxiety, Conflict Resolution, Coping Skills, Depression, Family Conflict, Life Transitions, Parenting, Peer Relationships, Relationship Issues, Self Esteem, Stress Management, and Women's Issues.
I have experience facilitating a wide range of children's socialization and therapy groups, focusing on topics such as feelings identification, frustration tolerance, and effective communication. Additionally, I have specialized training in working with children and families, and love partnering with children and caregivers to support connection.
Background
I am originally from Ann Arbor, Michigan and obtained my BA in Educational Studies, Psychology, and Spanish at Denison University in Granville, Ohio. After college, I spent a year teaching English in Madrid, Spain to third and sixth grade students. I then went on to receive my Master of Social Work with a concentration in Youth, Family, and Community at the Erikson Institute in Chicago, Illinois. In my free time, I enjoy practicing yoga, spending time outside, cooking, and traveling.