Sign up for Deep Eddy's newest group experience…
Cultivating Connection: A 12-week Therapy and Yoga Group
Fridays, 11:30am-1:00pm, Jan. 7-April 1, 2022 
About the Group
If you are looking for a new, deeper therapy experience that will integrate your mind, body, and soul – look no further!

Do you sometimes feel stuck in talk therapy because of a disconnection between your feelings and words?  Is it difficult for you to develop close relationships?  Are you seeking a regular embodiment practice that will support your mental wellness?  This group combines psychotherapy and yoga to foster improved connections with self and others.
It has become well-known that the ancient practice of yoga can be great self-care.  It offers opportunities to develop emotional regulation skills, increase self-awareness, and improve physical wellness.  Our bodies allow us to experience a felt sense of safety, choice, and self-love that can be very therapeutic.  A regular yoga practice can help us build a more loving relationship with our selves.
Importantly, yoga can also help us connect with others.  As we get better at identifying, feeling, and naming our emotions and sensations, we build the capacity to share them as well.  Practicing being present in our bodies while in relationship is one of the most effective ways to increase our capacity for closeness.  
What do sessions look like?
Time in this 90-minute group will be approximately half yoga and half discussion (all over Zoom).  The physical practice will be accessible for people of all levels of physical ability, and no previous yoga experience is required.  Each session will start with yogic practices that help members come home to themselves, including physical postures, mantra, breathwork, and meditation.  Following the movement practice, there will be time for processing and discussion.
All sessions are run by therapist and yoga instructor, Sara Hammond, LMSW, RYT-500.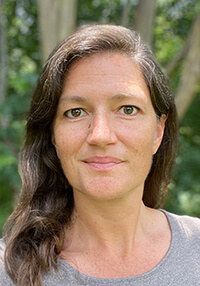 Meet your facilitator! Sara Hammond, LMSW, RYT-500
"I believe that we are all complete and whole, and that our task in therapy is to work through the obstacles that keep us from knowing this about ourselves. People make sense. Whatever you're struggling with now probably kept you safe at some point in the past. Honoring how we have gotten to present day allows us to have more choice about how we move forward. With more choice comes more space; with more space, more movement; with more movement, more breath; with more breath, more vitality, until we're filled with life and the truth of who we are, ready to move forward in the direction we've chosen." – S.H.
Yoga originated on the South Asian subcontinent approximately 2500 years ago.  Based primarily in the Hindu religion, it was a system of holistic practices for development of the self on physical, mental, and spiritual levels.  More recently, parts of that system have been successfully incorporated into psychotherapeutic practices as a way of integrating physical bodies into mental health.  Over time, yoga has been subjected to forces of colonialism, appropriation, and inequity.  In this group we will strive to acknowledge and honor this cultural background and history while engaging in the modern practice. 
How can this group help?
This group will be helpful to anyone experiencing:
Anxiety or stress

Relationship Issues

Impacts of trauma

Depression

Isolation
In this group, you can expect to:
Identify, name, and sit with sensations and feelings

Gather physical practices to help regulate emotions

Gain familiarity with nervous system responses

Find more physical ease and freedom from fatigue

Practice connecting authentically with others