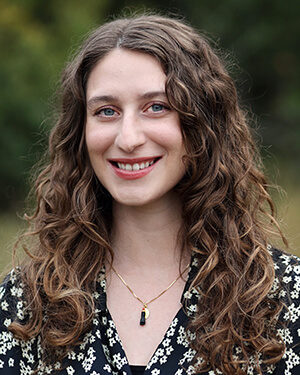 Nico Violante, LCSW
Licensed Clinical Social Worker
Pronouns: She/Her/Hers
Hi there! My name is Nico (she/her/ella) and welcome to my little corner of the Internet. I often tell potential clients that finding the right therapist is like shopping for shoes—it's all about the fit! Hopefully you can get a sense of who I am and what I do, and see if I'm the shoes you need for this part of your journey.
Areas of Focus
I primarily treat adults (21-64) and children under the aged of 7. I specialize in the following issues:
Perinatal Mental Health 

Anxiety 

Depression 

Complex and Single Incident Trauma 

Healthcare Workers 

Parenting Interventions for children aged 0-7 

Disruptive Behaviors (children aged 2-7)

Early Childhood Mental Health

Lactation Counseling 

Intergenerational Trauma 

Life Transitions 

Self Esteem
I am trained in EMDR, parent-child interaction therapy, certified in Perinatal Mental Health by Postpartum Support International, solution-focused brief therapy, lactation counseling, trust based relational intervention, cognitive behavioral therapy, and motivational interviewing.
Practice Philosophy
As human beings, we are hard-wired for two things: to survive and to connect. I whole-heartedly believe that in order to survive (and thrive!) in life, we need connection. We all want to feel seen, heard, understood, and accepted; these are the basic ingredients in order for us to feel safe in our relationships, and what I strive to bring to you as your therapist. 
I am eclectic in my approach to therapy, drawing from a variety of theoretical orientations and disciplines, such as humanist, psychodynamic, behavioral, neurobiology, relational, and social constructionist theories. Outside of any specific theory or modality, research has shown that one of the strongest predictors of "successful" therapy outcomes is the strength of the therapeutic alliance. To put it simply, the more connected and safe you feel with your therapist, the more you'll get out of therapy.
Previous clients and parents describe my style as a "verbal hug;" I'm warm, direct, playful, and humorous. I believe you are the expert on your own life. I believe that my role is to be walk alongside you on your hero's journey; I don't tell you where to go or how you should get there, but I'm there to point out what's ahead, what's around you, and what's behind you.
Background
I am a bilingual licensed clinical social worker and certified lactation counselor. A child of Italian/Venezuelan immigrants, I grew up in South Florida and later moved to Austin, Texas when I was fourteen. I earned my bachelor's in political science at Colorado College and my master's in social work at the University of Texas at Austin. Throughout my education, I was able to study and live abroad in Italy, Chile, and India. As a social worker, I have worked primarily with children and adolescents in a variety of settings, with the bulk of my professional experience being in primary care at a safety net clinic here Austin. Additionally, I am a Health Professional Specialist at Dell Medical School's Department of Health Social Work and an Adjunct Assistant Professor at Steve Hicks School of Social Work at the University of Texas at Austin. Outside of being a therapist and educator, I enjoy the outdoors via camping and visiting national parks, photography, yoga, running, reading, eating (not cooking), and spending time with my loving family and friends.