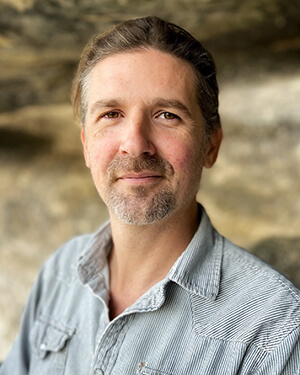 Jef Page, LPC-A
Supervised by:
Sunny Lansdale, LPC-S
Pronouns: he/him/his
Hello and welcome!  Below I've written a little bit about myself and my views on therapy in hopes of helping you decide whether we might be a good fit therapeutically.  
Therapeutic Philosophy
Quite often, there is a part of us that doesn't want to confront our issues, and in this effort to protect ourselves, patterns of living form over time and become hard to change or escape.  This fear of change is understandable — we know that on a certain level, being who we are and doing what we did helped us survive to this point.  But now, perhaps, you are recognizing there is a cost to avoidance, a cost for repeating the patterns — perhaps survival is no longer the goal, perhaps you want to thrive.  Before continuing on, perhaps, take a moment to acknowledge the courage within yourself that brought you here, facing the discomfort or fear of change in order to explore new possibilities.
To me, therapy in its broadest sense, is a mode for consistently and continuously facing that fear with someone supportive by your side. 
I believe that therapy should be an affirming, collaborative and challenging experience of self-discovery and self-acceptance where all emotions, ideas and issues can be explored and new patterns can unfold.  It is a relationship with the purpose of navigating and mapping your internal experience so that you may ride the tides on the ocean of human emotion and experience with compassion, creativity, curiosity, confidence, clarity and connectedness.     
Clinical Experience
Primarily working with adults, I specialize in working with individuals who may have had difficult childhoods and are wondering how their past experiences may be contributing to their current struggles, conflicts, indecision, stagnation or chaos.  I'm passionate about helping people with histories of trauma untangle and understand their patterns and move toward their goals.  I have worked successfully with people from all walks of life, people across the spectrums of age, race, gender, sexuality, education and income.  Your specific combination of these spectrums will be welcomed with acceptance, curiosity, and affirmation.
I've worked with people who have experienced or are experiencing:
Trauma – Anxiety – Depression – Grief – Codependency – Emotional disturbances or dysregulation – Sleep issues – Existential, Identity or Spiritual distress — Numbness or apathy – Substance use — Relationship distress – Impulsivity – Career stress – Indecision or procrastination – Abuse or neglect 
In addition, I believe in the unique benefits that group therapy has to offer, so when possible, I lead adult interpersonal processing groups for individuals curious about this powerful medium for change.
Theories and Modalities
I incorporate various modalities and theories into my work in order to offer the client multiple avenues for exploring and experimenting with the self in order to alter patterns and heal old wounds.  These include, but are not limited to: Attachment theory, Existential therapy, Emotion-Focused therapy and emotion theory,  Hakomi Mindfulness-Centered Somatic Psychotherapy, Coherence Therapy, and modern psychoanalytics.  In addition, I have been influenced by such theorists and philosophers as:  Janina Fisher, Iain McGilchrist, Ron Kurtz, Gregory Bateson, and Alan Watts. 
Bio
In addition to counseling, I also hold a BS in Biology: Ecology, Evolution and Behavior as well as a BA in Chinese Language and Culture.  I have past career experience as a sustainable building contractor and consultant, a massage therapist and martial arts instructor.  In my free time, I enjoy gardening, camping and outdoor exploration, partner dance and theatre improvisation.