Charlotte Howard, a therapist at Deep Eddy Psychotherapy in Austin, TX, talks about why it is healthy to care about what other people think, as long as we have a way to properly grieve any hurt feelings and do not change solely based on external opinions.
Caring About What Others Think Is Healthy
It's really healthy to care about what others think of us. That is a normal human response. We want closeness with others and we care about them, so of course we care about what they think and we care about our relationship with them.
It's very healthy to care how we're viewed. What becomes hurtful to us is to change ourselves based on that. It's much more healthy to be yourself and, of course, it's sad if someone rejects that, but we can grieve and then we can go on.
There's plenty of people who will love our real self and we can find them. It's healthy to care, but not to change who we are based on that.
Does counseling help with that? Does it work? When I have these things that seem like they're happening to me that are outside my control, what could therapy do?
For instance, if I've had a lot of negative feedback coming my way from people at my work, how can therapy help me in a situation like that?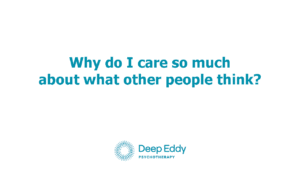 Therapy can help you discern and ask, "Is this feedback great feedback for me to learn from and grow?" People do reflect back to us really important things that we need to know. For instance, "Oh you're coming across as really cold. No one in the workplace wants to be with you." That's very valuable feedback—it might hurt my feelings, but I really need that information and I'm so glad to have it.
What part is true? What part is not?
When that happens, the part that wants to shut down needs shoring up. That's something that you could look at in therapy and have a therapist say, "Oh, that must've been so hard to hear. Let's look at it together. What part is true? What part is not? What do you think this is about?"
A good therapist can really help you navigate how to deal with rejection and other feedback you're getting that feels like too much. They can also give you feedback, when it's necessary, like, "Wow, this relationship seems toxic. Do you need my help setting boundaries with this person and getting this person out of your life?"
Let a Therapist Be Your Second Opinion
Sometimes we need a second opinion and someone that cares about us to look at the things in our life with us–someone who can help us decide whether we need to open, to learn and grow, or if we need to say, "This isn't healthy." That's one of many roles a good therapist will play in your life.
Starting Therapy in Austin, TX
We would love to invite you to make a complimentary call to discuss some of your options and determine whether Deep Eddy Psychotherapy in Austin, TX is the right fit for you and your situation. Please contact us using the links below or in the sidebar and share this post or video if you found it to be valuable. Together we can create a world of well-being and joy.