Dr. Charlotte Howard, a psychologist at Deep Eddy Psychotherapy in Austin, TX, talks about why it is healthy to find a couple's therapist sooner than later, even premarital counseling, when the relationship is wonderful, so that you have somewhere to turn should there ever be a future moment of crisis as well as ground rules and skills to protect the relationship over time.
The Opposite of What We Need
Unfortunately, the parts of us that need healing usually express themselves in a way that lead to our partner acting exactly the opposite of what we need and in a way that reinforces our original painful issue. If we believe deep down that we're going to be abandoned, for instance, we may hammer our partner with doubts and jealousy in a very repelling kind of way. If it goes on long enough, it can, and often does, lead to abandonment.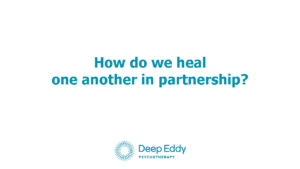 The Exact Moment Your Partner Needs Love
Our issues become self-fulfilling prophecies, but if we can be aware of that in partnership and actually give the opposite of what is being triggered in us, that can really be a healing moment that changes the course of your relationship. Something your partner is doing might make you furious, but that's the exact moment that they need love.
Therapy Provides Healing for Our Marriage
To heal in relationship—and it's very hard to do—we want to overcome our innate, instinctual response to what's happening and instead to give our partner the real medicine for the underlying issue that is triggering them in that moment. You can usually know what the medicine is because it's the opposite of what you really want to do. You might feel really repelled, but the medicine is to move closer. If you can give that, then that issue will just start to melt and fade away—it got what it needed and it heals over time. So instead of a pattern or dynamic between y'all' lasting the whole relationship, you see it shift and disappear over the years because it has received a healing response instead of the reinforcing response it begs for.
Would that be softening an ego? In your practice how would you define ego?
Yeah, exactly. Your Self might have a reaction, but you want to connect with a higher or deeper part of your Self that's almost one with your surroundings. You take your ego out of it and let go of whatever your stake is or whatever the reactivity of your heart is  because it is an outer layer of you.  Instead you find that deep, wise place that's available so you can actually deliver what your partner's heart really needs.
Would there be a reason for premarital counseling? What would be the purpose of that? If I'm thinking of marrying someone, I should be totally in love with them, so what would be the point of premarital counseling?
The main point of premarital counseling, in my opinion, is to establish a relationship with a therapist so that it will be there when you need it. Finding a couple's therapist can be difficult and you don't want to do it when you're in crisis because you really need something in that moment.
A Therapist Helps You Pass the Roadblock
During crisis, that's a key moment for you to be shored up. Letting those feelings linger in a relationship while you're having lackluster results trying out therapists—"Oh that therapy didn't help, that therapy didn't help,"—you really want someone that you can trust, that knows the two of you, available immediately. You want someone who can jump in there and help you pass the roadblock. Sometimes I see people who have seen six other couples therapist before they begin therapy with me.  Finding a good match for both you and your partner, where you both feel understood and comfortable, may be the trick.
Why Premarital Counseling & Therapy is so Valuable
In my personal opinion, finding that premarital therapist that's a good match is one of the main points for premarital counseling. You also want to make sure you and your partner are on the same page in terms of your vision for the relationship. You want to talk through the dynamics that are likely to trip you up as the relationship develops and establish healthy agreements and a plan for how you're going to handle things you don't like about each other.
Having Somewhere to Turn in Times of Crisis
Then, you want to address any dynamics that are already a problem so that you can help the relationship while it's wonderful and everybody is in love. You want to proactively help the relationship go in the right direction and it is easier when everyone is on board and trying hard to make the other happy. But ultimately having that therapeutic relationship down the road is key, so that you feel you have somewhere to turn when you need it.  
Starting Therapy in Austin, TX
We would love to invite you to make a complimentary call to discuss some of your options and determine whether Deep Eddy Psychotherapy in Austin, TX is the right fit for you and your situation. Please contact us using the links below or in the sidebar and share this post or video if you found it to be valuable. Together we can create a world of well-being and joy.