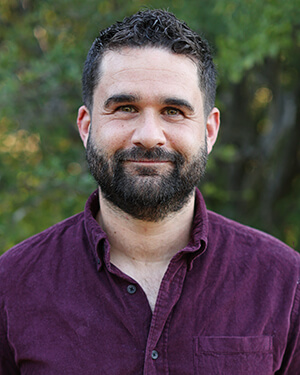 Robert Lewis, LPC
Licensed Professional Counselor
Pronouns: he/him/his
Hi!
Welcome to my page. I know that finding the right help can be a daunting task, so let me share a little about myself with you, and the therapy and coaching that I offer.
Psychotherapy and Counseling
Therapy can be beneficial for dealing with the challenges of life; both the ongoing and the sudden. You may be feeling lost, overwhelmed, or dissatisfied; maybe you have stubborn patterns, or you want to get to know yourself a little more.
Working in a supportive and non-judgmental environment can equip you to engage with your struggle, and find a strategy to help you get to where you want to be. Everyone has their own story and way of seeing the world, so I will work with you where you are at, using various approaches from CBT, Mindfulness, Existentialism and traditional psychotherapeutic methods. 
Sometimes, we will laugh or cry; some sessions will feel supportive, and others, frank and challenging. I encourage you to bring your whole self to the sessions, ask whatever you want, and risk going to uncomfortable places. As Joseph Campbell writes, "the cave you fear to enter holds the treasure you seek." 
I offer a space for individuals to explore issues such as anxiety, depression, stress, trauma, relationships, identity, loneliness and meaning.
Executive and Leadership Coaching
I also offer executive and leadership coaching. Coaching is a reflective, supportive and challenging space for individuals to explore growth areas. It can help you to identify and overcome the blockages that often hinder leadership, performance, progression, and authenticity.
These sessions focus on career goals and difficulties. I use psychometric testing to build awareness of your strengths and weaknesses; developing a pathway toward progress in your career and leadership.
Areas of focus include resilience, leadership development, progression, productivity, work relationships and transition.
About Me
I hold a Master's in Psychotherapy, a Diploma in Executive Coaching and Leadership Development, and a Bachelor of Arts in Psychology. 
Born and raised in Dublin, I have provided therapy, coaching, and wellness workshops for individuals and organizations across the US, Europe, and Asia for the last eight years. I have worked with companies such as Facebook, Google, Youtube, Airbnb, Tomra, Rabobank, and public sector organizations.
I am an avid reader, especially regarding the science of wellbeing. I love nature and being outdoors; I've done research in this area, and am happy to work with clients outside when appropriate. When I'm not in the office, you will regularly find me hiking, camping, or swimming. 
I look forward to meeting you. If you have any questions, feel free to contact the scheduling team or myself and I'd be happy to help.