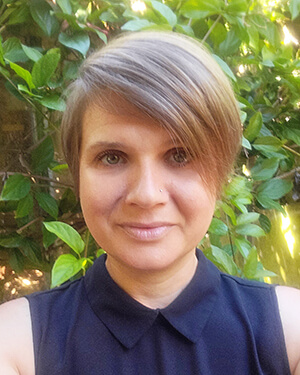 Rikki Treesh, LCSW
Licensed Clinical Social Worker
Pronouns: she/her/hers
Hello and Welcome to Deep Eddy!
My name is Rikki (she/her) and I am a Licensed Clinical Social Worker (LCSW) in the state of Texas. I have 8+ years of experience working with individuals coming from a range of circumstances and backgrounds. My formative work primarily involved working with adolescents, families, and couples dealing with crises in a social service setting. This laid a great foundation as I was able to develop new skills with each incoming client. Through that experience, I found that my true passion lies within a few specialties:
Clinical Interests / Specialties
Couples counseling

 

–

Trained in levels 1, 2, & 3, as well as Treating Affairs & Trauma of the Gottman Method, and currently on track for certification (

https://www.gottman.com/

)

Relationship counseling for individuals (your partner may not be interested or ready to start therapy or perhaps you are questioning your continued desire to be part of the couple)
Family counseling
Adolescents and young adults
LGBTQI+ affirming therapist
EMDR trained and on track for certification via EMDR Consulting (

https://www.emdrconsulting.com

)
Stress, anxiety, depression, trauma – Extensive training in Trauma-focused CBT (

https://tfcbt.org/

)
Therapeutic Approach
Meaningful healing, change, and growth often takes place in the context of a relationship. Our connection and mutual trust is crucial to the success of our work together. I look forward to connecting with you to hear more about how you would like to spend our time together and for us to get to know one another to see if we are a good fit. 
I incorporate a variety of therapeutic modalities in my work. Different approaches feel more comfortable and are more effective for the diverse population that I serve. I do, however, tend to take a person-centered approach and currently rely heavily on tools and techniques from CBT, Trauma-Focused CBT, DBT, Solution Focused Therapy, mindfulness-based therapies, and EMDR. 
A Little More About Me
When I'm not working, I enjoy spending time with my partner, 17-year-old daughter, friends, and the family dog. I prefer to be outside hiking, canoeing, or near trees and water, but also enjoy an evening in with a worthy book, scary movie, or good food. 
Please reach out if you have questions regarding therapy or my approaches. I look forward to hearing from you and facilitating your journey of reflection and growth.