Alexandria Williams-Reich, LMSW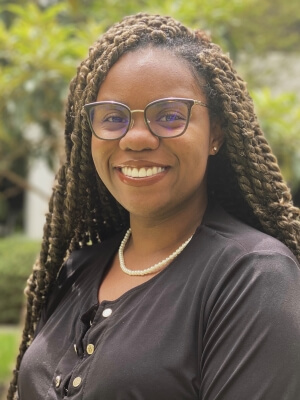 Alexandria Williams-Reich, LMSW
Licensed Master Social Worker
Supervised by:
Lisa Eiland, LCSW-S
Pronouns: she/her/hers
About me
Hey there! I'm Alexandria Williams-Reich and I am a Licensed Master Social Worker in Texas. I know what you're thinking—but my last name is pronounced "Rich" (my husband's family is German Jewish). I moved to Texas in 2017 and loved it so much I decided to put roots down! I'm from Louisiana and go back home often, and as much as I love Texas the best Cajun food I get here is what I make in my own kitchen. 
I received my Bachelor's in Sociology and Africana Studies from Tulane University in New Orleans, and my Master's in Social Work with a specialization in Health and Behavioral Health from the University of Houston. That's a lot of words to say that beyond mental illness, I'm acutely aware of how society impacts our well-being. I am a member of Delta Sigma Theta Sorority, Inc.—so if you see me wearing anything red with elephants on it, it's not because I'm an Alabama fan (#GeauxTigers) and the National Association of Social Workers as well!
I entered the field because of the resistance towards mental health treatment I saw growing up—"just pray to stop being depressed" ring a bell?—as well as the lack of actual access to treatment for people who wanted it. As a queer Southerner I understand the intersections of religion and mental health, and know how subconscious bias and fear of social rejection can keep us from seeking help.
Practice Philosophy
My approach to counseling acknowledges that treatment is as varied as humans are. Therapy focuses on the person's goals and development, not the counselor's desires for them. I am deeply compassionate, non-judgmental, and believe that the most effective therapy is truly collaborative between client and clinician. I work with clients across the lifespan but have most experience with children through young adults. I work with individuals as well as couples and families, and am open to clients with "non-traditional" family styles such as chosen families and non-monogamous relationships with or without children.
I firmly believe that everyone should have the tools they need to live a fulfilling life and find freedom, no matter what that looks like to them. I fully recognize that our mental health is influenced by our experiences with racism, sexism, homo/transphobia, and classism and that without an introspective counselor, therapy can be influenced by them as well.
I am experienced in CBT, ACT, solution-focused, trauma-informed, and person-centered therapy modalities.
In my work, I meet you where you are and validate your authority over your experiences and desires. Below is a non-exhaustive list of some of my practice areas of expertise & interest:
Children & Adolescents
Mood Disorders
Anxiety
Trauma
Grief
Life Transitions
School/Education Challenges
Women's/Reproductive Issues
LGBTQ+ Issues
Relationship Issues
Kink & Non-Monogamy Affirming
Postpartum Mood Disorders
Infertility Counseling
New Parent Counseling
Premarital Counseling
Sex Therapy
Outside of mental health, I am an experienced sexual health educator, childbirth educator, and a doula in training. I love traveling, reading cheesy romance novels, rewatching The Office, King of the Hill, and Reba, and playing with my fur babies (2 chihuahuas and a cat but I'm begging my husband for another dog).