Alexandria Williams-Reich, LMSW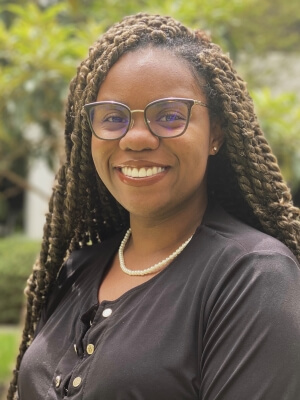 Alexandria Williams-Reich, LMSW
Licensed Master Social Worker
Supervised by:
Lisa Eiland, LCSW-S
Pronouns: she/her/hers
About me
Hey there! I'm Alexandria Williams-Reich and I am a Licensed Master Social Worker in Texas. I moved to Texas in 2017 and loved it so much I decided to put roots down! I received my Bachelor's in Sociology and Africana Studies from Tulane University in New Orleans in 2017, and my Master's in Social Work with a specialization in Health and Behavioral Health from the University of Houston in 2021. I am a member of Delta Sigma Theta Sorority, Inc. and the National Association of Social Workers. I entered the field because of the dearth of mental health access I've seen in my personal communities and wanted to provide culturally competent information and access to people dealing with mental health challenges. As a born and raised Southerner, I understand the intersections of religion and mental health, and know how subconscious biases and fear of social rejection can keep us from seeking treatment for mental health needs. 
Practice Philosophy
My approach to counseling is one that acknowledges everyone should have the tools they need to live a fulfilling life, no matter what that looks like to them. I fully recognize that our mental health is influenced by our experiences with racism, sexism, homo/transphobia, and classism and that without an introspective counselor, mental health treatment can be influenced by them as well. In my work, I prioritize the client's personal goals while balancing them with external needs and goals. As a Social Worker, I emphasize the role of social issues with clients—because none of our experiences exist separate from our personal identities. I pride myself on being empathetic, non-judgmental, and an excellent listener. I am experienced working with children, adolescents, and adults with mood disorders, grief, anxiety, trauma, postpartum mental health issues, and those experiencing major life transitions. Outside of mental health, I am an experienced sexual health educator, childbirth educator, and a doula in training. I believe that prioritizing prenatal as well as postpartum mental health provides long-lasting positive impacts for parents and families.