Article by: McKenna Hereford, PhD
You've likely heard about pride month and maybe even seen various celebrations that typically occur in June. Within the past few years, many companies have begun their own forms of endorsement and you may see various rainbow memorabilia across your social media feed. Have you wondered why June is considered Pride Month? Sometimes among all the endorsements, we lose the origins of Pride. In fact, many people in the past few years have criticized the marketing of Pride and what's considered "rainbow washing", wherein companies provide superficial support through rainbow colored products without meaningfully contributing to advocacy or awareness. To honor this month, here is a summary of what happened that has led to June being dedicated to Pride.
In 1969, being "homosexual" was considered illegal and law enforcement would sometimes raid rumored gay bars. The Stonewall Inn was a well-known bar in the community that also did not have a liquor license due to laws surrounding being gay. On June 28, 1969, officers executed a search warrant in the Stonewall Inn and arrested "crossdressers" (drag queens or gender non-conforming individuals). The events that unfolded changed history forever, especially for gay/lesbian folx. 
Timeline:
At approximately 1:15 am on June 28, 1969, plainclothes officers executed a search warrant for the bar illegally selling alcohol. Officers began raiding the Stonewall Inn and patrons began throwing coins and bottles in response to officers restraining a woman in the police car several times.

Law enforcement locked themselves inside the bar and began questioning patrons. They also arrested "crossdressers" who were considered to be "the most obvious offenders", as this behavior was considered illegal. 

Some people escaped but many were arrested during this raid.

Protests continued throughout the rest of the night of June 28th.

Word spread quickly and protests spread throughout the following week in the community. Thousands of people showed support during these protests.
The raid that occurred at the Stonewall Inn is considered the birth of the gay liberation movement. Annual protests started on June 28, 1970 to commemorate the event. Below is a picture of a poster from the first annual Pride Week in New York in 1970 honoring the Stonewall Inn uprising.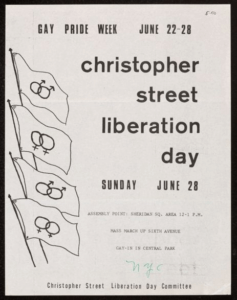 Obtained from Library of Congress: https://www.loc.gov/item/today-in-history/june-28/
Many of us who've heard of Pride or what happened that led to this point likely associate that image with gay individuals, particularly gay men. It's important to remember who has been left out of this picture. Lesbians, gender non-conforming, trans youth, and drag queens all participating in that raid, following protests, and the movement in general. In fact, many reports indicate that two drag queens were arrested during the raid because, in New York, it was illegal to wear fewer than three items of "gender-inappropriate" clothing (according to the New York penal code and Library of Congress). Drag queens are also credited for overturning laws banning "crossdressing" in New York after creating advocacy organizations. This historical erasure continues today in many ways. For example, many sources of education, training, and research on "LGBT" individuals are mostly geared toward gay men or lesbian women. Trans individuals tend to be lumped into these sources, as well as bisexual individuals. Further, only recently people have started discussions surrounding gender non-conforming individuals which consists of a larger scope beyond the gender binary of men or women. 
Where do we go from here?
Now you know a brief history of Pride Month! There were many sexual orientations and gender identities that were targeted and advocated for themselves during the uprising. It's important for all of us to remember why there is a month dedicated to pride and, equally importantly, who has been neglected in that story and picture. Here are some current statistics to keep in mind:
LGB adults are

2x more likely

to experience a mental health condition

Trans adults are

4x more likely

to experience a mental health condition

LGBTQIAA2S youth are

120% more likely

to experience homelessness

40%

of trans adults have engaged in suicidal behavior due to 

An increasing number of hate crimes toward LGBTQIAA2S individuals have occurred over the past several years 

Intersectionality is incredibly important, because Black trans women are significantly more likely to be targeted for violence than their white trans women counterparts
As you can see, we have more room to grow! Asking people their pronouns, advocating for friends, keeping our biases in check, and being comfortable with uncomfortable conversations are all small and important actions we can take. We likely won't always keep up with the language people use. If you notice the acronym I used above, I included two-spirited individuals and asexual individuals for example and this language may change later. That's okay! Being an open and safe support for people or finding support for yourself is an important first step. If you're looking for therapy for yourself or how you can support your loved ones, check out our services here at Deep Eddy Psychotherapy.