Do you suffer in your relationships? Want to better understand yourself in relationships and learn to build better ones? Group therapy might be a good fit for you.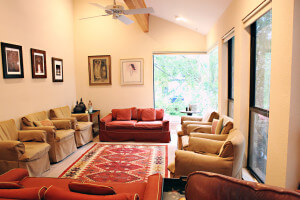 The American Group Psychotherapy Association reports:
Group therapy works! In studies comparing group psychotherapy to individual therapy, group therapy has been shown to be as effective and sometimes even more effective.
Through developing more comfort with feelings, vulnerability, authenticity, and closeness, group therapy is fast and effective at helping people be themselves, like themselves, and trust and enjoy others.
Benefits of Group Counseling
Most presenting issues have some connection to past or present relationships and how one feels about oneself, others, and one's life as a result of those relationships. Whether one has experienced loss, mistreatment, rejection, being pushed into a role to please others, or one of the many other things that go awry in our relationship experience, group is a direct and powerful way to access relationship patterns and feelings toward oneself in relationships that are the source of the presenting concern. From anxiety, depression, low self-esteem, communication or anger issues, to repetitively choosing the wrong partner for you, processing and understanding your relational experience in real time is a powerful opportunity for change.
Clients can practice applying the insights and skills they are learning in individual therapy, such as awareness of feelings, their source, and the ability to express them vs. acting them out. Looking at relationship dynamics in real time as reactions are occurring with other group members allows profound development to happen naturally. While exploring, the therapist or other members may notice things about the person that wouldn't be apparent in individual therapy and that the person might not know to report to his/her individual therapist. Group therapy helps people learn to be more authentic and have a more full and loving sense of self, to have healthier relationships, to communicate effectively and to not recreate painful childhood relationship dynamics in present relationships. These changes, combined with the support of the group, lead to decreased anxiety, depression, anger, and distress.
The support is not the focus for us (as it would be in a support group), though deep, supportive relationships are often formed with other members. Group therapy for us is a psychotherapy group where the focus is on exploring one's real self and your feelings that are stimulated by the relationships in the room (which will inevitably mirror the relationship dynamics and feelings that arise outside of group therapy). So, what we want to see  is people talking to each other about how they feel with each other moment to moment.  Through this process you will receive valuable honest feedback as well as learn about your reactions to others.
Young-Adult Group Counseling
Two of our groups are young-adult groups (twenties and early thirties). As we grow into ourselves during this tender time of life, deep exploration of who we are, our relational patterns and struggles, and important life-path choices creates more confidence and clarity. Sharing together the complex experience of embracing adulthood and creating the life you want provides insight and comfort that powerfully help us through the challenges.
Schedule
We invite you to look over the list of groups we offer and consult with us about them. Which therapy group you join would be based not only on scheduling, but on how who you are fits therapeutically with the characteristics of each. Whether or not group therapy would be beneficial and appropriate for you at this time would be assessed by the leader in the intake interview.
Monday
Tuesday
Wednesday
Thursday
8:00-9:30am
Adult Group
led by Jev Sikes, Ph.D.
Deep Eddy office
7:45-9:15am
Adult Group
led by Jev Sikes, Ph.D.
Deep Eddy office
12pm-1:30pm
Minding the Heart
led by Tori Olds, Ph.D.
Deep Eddy office
11:30am-1pm
Adult Group
led by Charlotte Howard, Ph.D.
Deep Eddy office
4:45-6:15pm
Adult Group
led by Glenn Olds, Ph.D.
Deep Eddy office
4:45-6:15pm
Adult Group
led by Jev Sikes, Ph.D.
Deep Eddy office
4:45pm-6:15pm
Interpersonal Group
led by Claire Griffy, LPC
Westlake office
4:50-6:20pm
Adult Group
led by Sydnor Sikes, Ph.D.
Deep Eddy office
4:45-6:15pm
Young Adult Group
led by Jessie Lewis, LCSW
Westlake office
6:30pm-8pm
Adult Group
led by Matt Halvorson, LPC
38th Street Office
5:00-6:30pm
Gender & Sexuality Process Group
led by Emily Kerzin, Ph.D.
Westlake office
6:30pm-8pm
Adult Group
led by Lara Adams, LPC
Westlake office
5:30-7:00pm
Gender and Sexuality Process Group
led by Sally Lineback, Ph.D.
38th St. office
5:30-7:00pm
Young Adult Group
led by Owen O'Brien, LCSW
Westlake office
5:30pm-7:00pm
Adult Group
led by Glenn Olds, Ph.D.
Deep Eddy office
6:35-8:05pm
Adult Group
led by Owen O'Brien, LCSW
Deep Eddy office
6:30-8:00pm
Adult Group
led by Glenn Olds, Ph.D.
Deep Eddy office
6:30-8:00pm
Adult Group
led by Jev Sikes, Ph.D.
Deep Eddy office
What Our Clients Say About Group Therapy
(taken from former clients reaching out by email)
I can't emphasize enough the gratitude I have towards the group, and you for leading us….I am now much more attuned to my defense mechanisms and their activity – I can dig deeper in the moment and identify what it is that is causing me to fear. And I can take that healing with me for the rest of my life thanks to you all. I need it.
I wanted to tell you again how much I enjoyed Group and how much I learned. It was an enlightening experience, in every way. You have been wonderful throughout—steady, insightful, appropriately accessible.
I was in your Monday group for about a year. I just wanted to let you know I often think about group and how much I learned there. I learned things I didn't even know were learnable. Things I carry with me every day.
I'm very happy to be a part of the group. It's something I look forward to and think about often. I feel like it's slowly bringing me back to where I can function effectively with the world. I'm grateful. 🙂
If you're interested in group, click the button below to set up an appointment with one of our specialists!