Christopher Carcamo, Psy.D.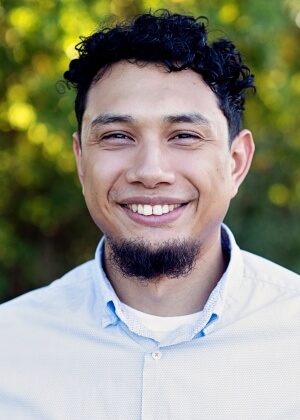 Christopher "Chris" Carcamo, Psy.D.
Psychologist
Supervised by: Mark Provence, Ph.D.
Pronouns: he/him/his
Hello!
Thank you so much for taking time out of your day to visit my page and consider our services. Seeking out any form of therapy can be an intimidating process, no matter what your experience. My hope is you can get a sense of me as a person and clinician through this page, so that you can make the best decision in choosing a clinician that will meet your therapy needs. I believe therapy can be flexible and is ultimately built on rapport. When I work with individuals, couples, or groups, I take appropriate steps to take all pieces of your background and who you are into consideration as we collaboratively create goals and choose a direction to move towards. I am a bilingual provider (English and Spanish) and have a broad variety of clinical interests and expertise. I am more than happy to answer any questions you may have to facilitate the best next steps for you. 
About Me
I am a first-generation-born American, with two parents who were born and raised in El Salvador. Throughout my life, I have lived in areas within Texas, Michigan, and Virginia. I am thankful for the unique experiences and exposure to the constant balancing of being a first-generation-born American, preserving my own Salvadorian culture, and navigating life in the U.S., whether it be academically, professionally, or personally. I got into psychology through a combination of a fascination with the human experience and a variety of life experiences. This motivated me to be want to provide care, support, and education to those seeking out services in navigating the hardships, accomplishments, and transitions in life. When I'm not working, I am a family man. I often spend my time with my wife and my two young boys. I enjoy listening to all sorts of music, dancing, specifically bboying (breakdancing), and cooking! I am also a huge foodie and am always looking for my next culinary adventure. 
My Approach to Therapy
I would describe my approach as strategically eclectic. This simply means that while a lot of evidence-based psychotherapies work for a lot of people, I take time to be intentional in what would be the most compatible and appropriate to your specific needs, often integrating aspects of multiple psychotherapies. I take a holistic, systems-based, relational approach. I've had previous clinical experience in environments such as community mental health, private practice, prison setting, psychiatric hospital, and VA medical center. When I engage in therapy, I take into consideration one's unique diversity and values as they are often invaluable assets in our journey throughout life. I also take into consideration the variety of systems in people's lives, and how they influence the person/people I am working with. These systems may include partners, family, societal views, or even laws and regulations, to name a few. I believe these are important factors to consider when navigating therapy and our goals. I take time to really explore your strengths, using them to achieve your goals and highlighting what you already bring to the table. Whether it is chronic pain, sexual orientation, cultural background, the difference in backgrounds within a relationship, or previous life experiences, I want to take the time to get to know and empower you as you learn skills and process aspects of your life to get you where you would like to be. I tend to be flexible within the therapy room, often being warm and inviting, but can also be direct when someone may prefer a more thought-provoking, "nitty-gritty" approach. My ultimate goal in therapy is that through the work we will be doing together, you will learn to use the assets you already have, develop helpful skills, and gain additional insight and perspective. I want anyone to get to a point where you won't need me anymore and you continue your journey in life, although my door is always open should you choose to return!
Clinical Interests
Working primarily with individuals ages 18 and up
Individual, group, couples, and sex therapy
Assessment for diagnostic clarification
Working with:

Chronic pain and conditions
LGBTQ+ factors
Holistic health and considerations of co-occurring medical factors
Navigating cultural factors with minority individuals
Anxiety and depression
Working with Latino/a/x individuals (providing therapy in English and Spanish)
Identity development
Grief and loss
Life transitions