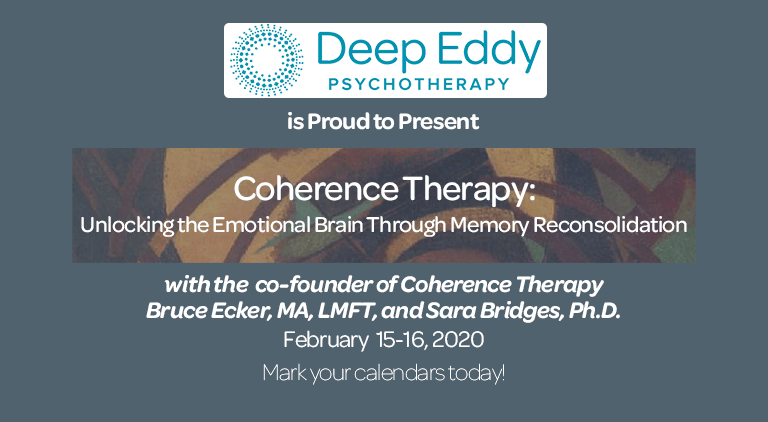 What: Coherence Therapy Workshop
For: Psychotherapists, all levels
Leaders: Bruce Ecker, MA, LMFT and Sara Bridges, PhD
When: *Theory & Technique: Saturday, February 15th, 9-5
*Experiential Application: Sunday, February 16th, 9-5
(check-in opens at 8:30am; please be seated by 8:45 AM)
CEs: 6 CEs each day for psychologists, LCSWs, LPCs, and LMFTs
Where: Saturday: J.J. Pickle Commons Conference Center
Sunday: Presence Wellness Center in Westlake
Contact: Tori@deepeddypsychotherapy.com
Coherence Therapy guides deep, lasting change through profound unlearning of the core beliefs and emotional schemas maintaining problem patterns and distressed ego states and parts. This experiential approach applies the brain's innate process of memory reconsolidation, which can dispel acquired patterns down to the synapses encoding them. This workshop spells out the steps of the reconsolidation process, which fit in well with most experiential approaches. You'll learn exactly what gives new therapeutic experiences the potency to actually replace and erase entrenched negative reactions, states of mind and attachment patterns. You'll observe live and video demonstrations and practice swiftly-effective methods.
*The Saturday workshop is a prerequisite for attending the Sunday Training Intensive.
PART 1 – Saturday, Feb. 15th
An introduction to Coherence Therapy and how it applies memory reconsolidation research findings. Concepts, map of process, and useful techniques will be spelled out in lecture and brought to life by demonstrations using Coherence Therapy session videos. This Part 1 workshop is a prerequisite for attending Part 2.
PART 2 – Sunday, Feb. 16th – size limited!
A full day of experiential work in small groups conducting real sessions of Coherence Therapy with each other, guided by real-time, personal coaching by the presenters. The goal will be for you to learn the essence of facilitating the memory reconsolidation process, so that you can then apply it in your own practice using techniques of your choosing. To that end, Sunday's practice sessions will employ the methods of Coherence Therapy, which are designed to enact the process in its purest and most explicit form.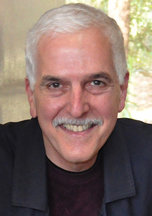 Bruce Ecker, M.A., L.M.F.T., is co-founder of Coherence Therapy, co-director of the Coherence Psychology Institute, and coauthor of Unlocking the Emotional Brain: Eliminating Symptoms at Their Roots Using Memory Reconsolidation; the Coherence Therapy Practice Manual & Training Guide; and Depth Oriented Brief Therapy. He has contributed numerous innovations in experiential psychotherapy and has led the clinical field's utilization of memory reconsolidation research findings. He is in private practice.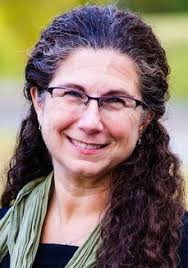 Sara K. Bridges, Ph.D., is Associate Professor at the University of Memphis, co-director of the Coherence Psychology Institute, former president of the Society for Humanistic Psychology (APA Division 32), co-editor of the five-volume series Studies in Meaning, and author of the Coherence Therapy chapter in the 2015 edition of Contemporary Theory and Practice of Counseling and Psychotherapy. She is a licensed psychologist and in 2012 received the Distinguished Teaching Award of the University of Memphis.