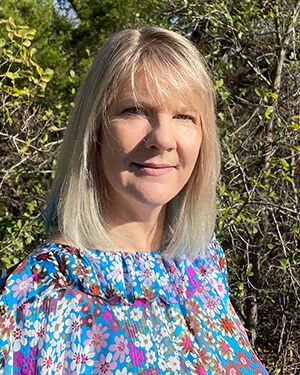 Victoria Latifses, Ph.D.
Licensed Psychologist
Pronouns: She/ Her/ Hers
About Dr. Latifses
I have 18 years of experience as a licensed psychologist. I have worked in public mental health settings, both in a large community clinic in Los Angeles and most recently as the director of psychology at Austin State Hospital (ASH) and as the state psychology discipline director for the Texas HHS State Hospital System. 
My undergraduate degree was in Psychology/Women's Studies from Mary Baldwin College in Staunton, VA. I received my master's and doctoral degree in Clinical Psychology from the Fielding Graduate University in Santa Barbara, CA. I have had additional training in EMDR, somatic and experiential trauma treatments, eating disorders, and racial, historical, and collective trauma. 
My work has centered on those with severe and chronic mental illness, under-served communities, or those from oppressed, marginalized groups/communities/institutions. I identify as a woman in long-term recovery from alcoholism, and so I am familiar with 12 Step Recovery and Harm Reduction systems.
I believe in strong advocacy to help minimize health disparities for BIPOC populations. I am passionate about supporting all types of indigenous cultures. Further, I am committed to social justice, social change, and continued advocacy towards a future of equality.
I am a mom and an animal lover. I love kayaking and hiking. I also love reading, documentaries, camping, and DIY projects. I am very excited to be part of the Deep Eddy community! I look forward to traveling again someday when it is safe and to settling into a "new normal" even though I think that might take quite some time. We will get through it together.
Practice Philosophy
My primary focus is present-centered therapeutic work using an open and collaborative approach. I use "top-down" techniques such as traditional talk therapies such as CBT/DBT, Attachment-based, Humanistic or Interpersonal approaches. I have found these modalities to be useful to creating lasting and meaningful change by working on skills like practicing boundaries, finding life balance, building healthy relationships, and learning to build self-esteem. 
First, we consider addressing the trauma, stress and overwhelm that all of us experience. Once we address these areas somatically, a sense of physical safety is established that allows for deeper emotional processing. When overwhelm is present along with stress and anxiety, it is hard to focus on thoughts. 
When we are stressed, the amygdala is overactive, which can suppress the "thinking" part of the brain. The first task is to reduce the amount of stress hormone, or cortisol in the body. That is where "bottom-up" techniques come in. This approach is about learning how to regulate stress/ trauma reactions to bring the entire body into balance and a more comfortable space. We work on resolving the symptoms of trauma that can cause many of us to struggle with a sense of moving forward with our lives, difficulty with connecting to our essence and to our felt sense of capability. 
I integrate elements of EMDR, EMDR, Somatic Experiencing®, the Hakomi Method, and other experiential therapies.
Areas of Interest
Substance Use 

Trauma (C-PTSD, Sexual Abuse Recovery, Attachment Trauma, Collective and Intergenerational Trauma, and Dissociative Disorders)

Body Image/Diet Culture/Eating Disorders  

Burnout (

Healthcare Worker Stress,

moral distress,

moral injury, workplace bullying)

Chronic Pain/Chronic Illness 

Mood Disorders (Depression, Bipolar, Anxiety)

Relationship Issues

Gender Identity Issues

Women's Issues

Life Transitions