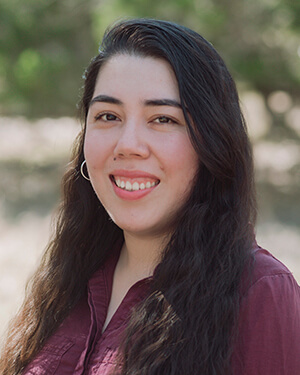 Stephanie Banuelos, PhD
Postdoctoral Fellow
Pronouns: she/ her/ hers
Supervised by:
Kathleen Fahrner, Ph.D.
Hello!
I am a bilingual and bicultural therapist at Deep Eddy Psychotherapy. I believe feeling safe with your therapist is important to your healing process. Below I provide information about myself to help you make the decision that is best for you. 
Practice Philosophy
My work with all ages involves fostering a safe holding environment that consists of empathy, compassion, and acceptance, where the client is encouraged to bring their genuine selves into the room.I am interested in exploring the impact of early childhood experiences on an individual's sense of self. While the therapeutic journey can feel overwhelming, I will work towards helping you understand yourself in a deeper way. My process consists of creating a safe space for you to feel your emotions, bring awareness to your reactions, and then facilitate an understanding of how your experiences have influenced you as a person. Therapy can be helpful in bringing awareness of those cycles that continue to repeat themselves. During difficult moments I like to pause and offer to model relaxation and grounding techniques to help you claim back a sense of control and safety (regulation). Participation and collaboration on your part during this process will be essential for the growth of the therapeutic relationship. When emotional and physical regulation is present, I continue to walk with you through relational wounds. My hope is to help you reflect, recognize your self-worth, and step into a space of transformation. 
I hold a multicultural framework and I work towards understanding how the socio-political climate, intergenerational trauma, and further complexities impact the clients I work with. I acknowledge that psychological vocabulary and jargon is not always available to learn. Particularly, in my work with children and adolescents, I help to provide psychoeducation to the families to help them describe experiences and causes for emotional/behavioral difficulty in order to address the miscommunication and disconnect between the parent and child relationship.
Areas of Clinical Interest
-Kids and Teens (8+)
-College students and Young Adults 
-Trauma 
-Cross Cultural Experiences 
-Bilingual Spanish-Speaking Services
-Immigration
-Family systems and dynamics
-Play Therapy
-Depression
-Anxiety 
-Adjustment disorders
-Life transitions
-Autism and Neurodiversity 
Additional Areas of Interest
-Faith and Spirituality 
-Sexual violence 
-Moral Injury 
-Displacement
-Assessment/Testing (Intelligence, Emotional/Personality, Thought Disorders, ADHD)
About Me
I was born and raised in Long Beach, CA by two Mexican immigrant parents. I am thankful for my diverse exposure to community, lifestyles, music, and food growing up in the Los Angeles area. After high school I attended Cal Poly Pomona where I received my bachelor's degree in Psychology. I continued my academic career and received my master's degree in psychology from Fuller Theological Seminary and thereafter my Ph.D. in Clinical Psychology from Fuller as well. During my graduate program I explored the narratives of internally displaced women from Colombia who experienced sexual violence at one point in their life. I then studied the effect of trauma on Colombian faith leaders and their risk of experiencing secondary traumatic stress and burnout due to their work in a violent context. I have experience working with children, teens, families, and Spanish speaking populations not limited to community mental health centers and medical centers. In my spare time, I enjoy going to concerts, dancing, playing video games, going to thrift shops and record stores, and spending quality time with my loved ones.