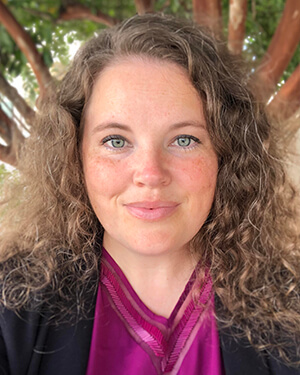 Shana Varnell, PsyD
Licensed Psychologist
Pronouns: She/ Her/ Hers
Considering connecting to therapy for the first time or getting reconnected can come with lots of questions and curiosities, hopefully knowing a little about me and how I work can provide help as you go through that process. In my work I believe one of the most important aspects of the therapy experience is that the relationship between me and the individuals I work with be collaborative, supportive, and tailored to what a person needs and wants. The time you spend in therapy is ultimately your time and I want us to be sure we are using it in the way that is most beneficial and appropriate for what you want out of the experience.
My therapy style includes pulling from a variety of theories and techniques in a way that is most relevant for each person. Some foundational theories I use include strengths-based perspectives, narrative therapy, positive psychology, and other empirically validated theories of psychology. My philosophy is that you are the expert on your own experience and our time in therapy sessions is often drawing on resources that are relevant in your life. 
Some of my clinical focus areas include:
Family and relational
Trauma recovery
Changes and adjustments
Undergraduate, graduate, and professional student experiences
Identity and self-concept
Experience of anxiety, depression, and
other mood symptoms
Assessment with adults – ADHD, Specific
Learning Disorder, and other areas of possible concern
I work with adult individuals and couples, as well as facilitate group therapy. I practice from a stance of cultural humility and am an advocate for racial and social justice. I am affirming of sexual and gender identities. I believe that not attuning to all aspects of the client's identities can lead to less productive work in therapy and I will continue to be dedicated to the advancement of knowledge and application of diversity and cultural awareness, sensitivity, and humility. I acknowledge systems of oppression and racism and am purposeful to work to recognize any biases or prejudices I may hold. I hope to create a space in therapy where individuals are supported and open up conversations that build a safe environment for the client in therapy.
A little more about me:
I completed my Doctor of Psychology degree at Our Lady of the Lake University in San Antonio, Texas. I engaged in my predoctoral internship year at the Oklahoma Health Consortium working with students at the University of Oklahoma and then worked as a postdoctoral resident to complete my training at Texas State University.
I consider myself to be a laid back individual who tries to be present in each moment. If it seems like we could be a good fit working together then I look forward to it!