Michella Conrad, Doctoral Intern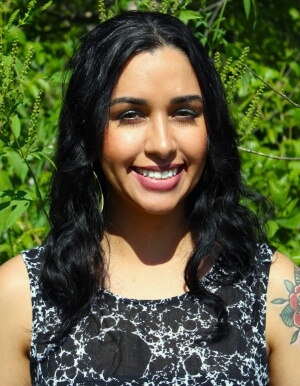 Michella Conrad
Doctoral Intern
Supervised by:            Katie Fahrner, Ph.D. and Rachel McCarthy, Psy.D.
Pronouns: she/her/hers
Hello!
Many individuals see therapy as a one-sided discourse in which there is little room for engagement or the ability to experience each other as real people. It takes much self-determination and hope to embark on the journey to healing. Healing is often raw, uneasy, and takes much trust to allow another to hold space for you.  Thank you for commencing the process with great courage. My name is Michella (Mih-shella) and I am here to serve as your partner in the healing process there is no other way than up from here. I understand that this process may be intimidating and stressful, so I hope my profile will assist in determining whether we might be a good match. 
Therapeutic Approach & Practice Philosophy
My approach is collaborative, integrative, and holistic. I believe that perceiving everyone as a complete being is a vital first step in delivering treatment. I aim to create a safe space, tailor treatment to the individual, and adapt the approach to the client's needs through several strategies that may be used in each session. It is important to recognize the links between emotions, thoughts, bodily experiences, and spiritual beliefs (if any, none required) to increase self-awareness, self-worth, self-love, and self-acceptance. A secure therapeutic relationship encourages healing and effective treatment. With this in mind, my overall approach to therapy is joy-infused, empathetic, and simply kind. I am dedicated to practicing as an anti-racist/liberation-based, multicultural, neurodiverse/LGBTQ+ affirming, and sex/body-positive feminist therapist. I welcome all humans regardless of their background.
Clinical Interests
I am enthusiastic about working with children ages 11 and up and adults in several areas, ranging from but not limited to:
Assessment (ADHD Evaluations, Psychodiagnostics Assessments, & Career Exploration)
Women's/ LGBTQ+ / BIPOC issues
Anxiety/Depression
Life Transitions/Career
Personal Growth/Spirituality
Identity Exploration/Development
Trauma/ Relationships
Background
I am currently pursuing a Clinical Doctorate of Psychology at California Southern University. I am in my last year in the program and undertaking a supervised Pre-Doctoral Internship at Deep Eddy Psychotherapy. My doctoral project culminates in women's studies, emphasizing intergroup aggression among girls and women. Throughout my academic and professional career, my major interests have been servant leadership, art, psychology, and education. I value altruism and have completed four AmeriCorps volunteer service programs, for which I won a silver-level Presidential Volunteer Service Award. I received a BA in Art/Psychology from the University of Houston and have training in multidisciplinary visual art. I received a Master of Education from Sul Ross University and am a licensed educational diagnostician and educator in Texas and New Mexico. For the last 13 years, I have served in various capacities within the K-12 school system. My most recent assessment experience covers intellectual impairment, diverse learning disabilities, giftedness, and autism in the K-12 sphere, community, and private psychological practices. I am originally from Houston, TX, but have lived in various states in New England US, Thailand, and New Mexico.  I am an intuitive empath, neurodiverse, bilingual, triracial (Trigueña), Latin(e), and LGBTQ+ affiliated. I enjoy traveling, hula hooping, listening to and dancing to music, playing video games, spending time with loved ones, reading, gardening, art, and craft making in my spare time.
Michella Conrad, Doctoral Intern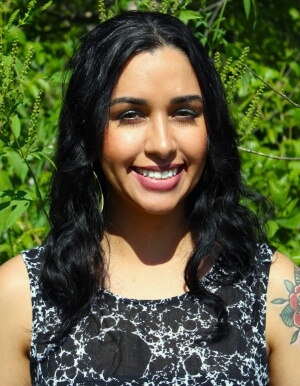 Michella Conrad
Doctoral Intern
Supervised by:            Katie Fahrner, Ph.D. and Rachel McCarthy, Psy.D.
Pronombres: ella
¡Hola!
Muchas personas ven la terapia como un discurso unilateral en el que hay poco espacio para el compromiso o la capacidad de experimentarse mutuamente como personas reales. Se necesita mucha autodeterminación y esperanza para embarcarse en el viaje de sanación. La curación a menudo es cruda, incómoda y se necesita mucha confianza para permitir que otro tenga espacio para ti. Gracias por iniciar el proceso con gran valentía. Mi nombre es Michella (Mi-chella), y estoy aquí para servir como su socio en el proceso de curación, no hay otro camino que subir desde aquí. Entiendo que este proceso puede ser intimidante y estresante, así que espero que mi perfil ayude a determinar si podemos ser una buena pareja
Enfoque Terapéutico y Filosofía de la Práctica
Mi enfoque es colaborativo, integrador y holístico. Creo que percibir a todos como un ser completo es un primer paso vital para brindar tratamiento. Mi objetivo es crear un espacio seguro, adaptar el tratamiento al individuo y adaptar el enfoque a las necesidades del cliente a través de varias estrategias que se pueden usar en cada sesión. Es importante reconocer los vínculos entre las emociones, los pensamientos, las experiencias corporales y las creencias espirituales (si las hay, no se requiere ninguna) para aumentar la autoconciencia, la autoestima, el amor propio y la autoaceptación. Una relación terapéutica segura fomenta la curación y un tratamiento eficaz. Con esto en mente, mi enfoque general de la terapia es lleno de alegría, empático y simplemente amable. Me dedico a ejercer como terapeuta feminista antirracista/basada en la liberación, multicultural, neurodiversa/LGBTQ+ y feminista sexual/cuerpo positiva. Doy la bienvenida a todos los seres humanos, independientemente de su origen.
Intereses Clínicos
Me entusiasma trabajar con niños de 11 años en adelante y adultos en varias áreas, que van desde, entre otras, las siguientes:
Evaluación (evaluaciones de TDAH, evaluaciones de psicodiagnóstico y exploración de carreras)

Asuntos de mujeres/ LGBTQ+ / BIPOC

Ansiedad/Depresión

Transiciones de vida/carrera

Crecimiento Personal/Espiritualidad

Exploración/Desarrollo de Identidad

Trauma/ Relaciones
Fondo
Actualmente estoy cursando un Doctorado Clínico en Psicología en la Universidad del Sur de California. Estoy en mi último año en el programa y estoy realizando una pasantía predoctoral supervisada en Deep Eddy Psychotherapy. Mi proyecto de doctorado culmina en estudios de la mujer, enfatizando la agresión intergrupal entre niñas y mujeres. A lo largo de mi carrera académica y profesional, mis principales intereses han sido el liderazgo de servicio, el arte, la psicología y la educación. Valoro el altruismo y he completado cuatro programas de servicio voluntario de AmeriCorps, por los cuales gané un Premio Presidencial de Servicio Voluntario de nivel plata. Recibí una licenciatura en Arte/Psicología de la Universidad de Houston y tengo capacitación en artes visuales multidisciplinarias. Recibí una Maestría en Educación de la Universidad de Sul Ross y soy educadora y diagnosticadora educativa con licencia en Texas y Nuevo México. Durante los últimos 13 años, he servido en varias capacidades dentro del sistema escolar K-12. Mi experiencia de evaluación más reciente cubre discapacidad intelectual, diversas discapacidades de aprendizaje, superdotación y autismo en la esfera K-12, la comunidad y las prácticas psicológicas privadas. Soy originario de Houston, TX, pero he vivido en varios estados de Nueva Inglaterra, EE. UU., Tailandia y Nuevo México. Soy una empática intuitiva, neurodiversa, bilingüe, triracial (trigueña), latina(e) y afiliada LGBTQ+. Disfruto viajar, hacer hula hooping, escuchar y bailar música, jugar videojuegos, pasar tiempo con mis seres queridos, leer, hacer jardinería, hacer arte y hacer manualidades en mi tiempo libre.