Michella Conrad, Doctoral Intern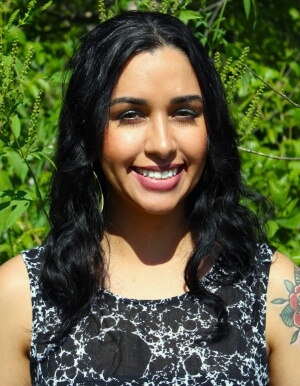 Michella Conrad
Doctoral Intern
Supervised by:            Katie Fahrner, Ph.D. and Rachel McCarthy, Psy.D.
Pronouns: she/her/hers
Hello!
Many individuals see therapy as a one-sided discourse in which there is little room for engagement or the ability to experience each other as real people. It takes much self-determination and hope to embark on the journey to healing. Healing is often raw, uneasy, and takes much trust to allow another to hold space for you.  Thank you for commencing the process with great courage. My name is Michella (Mih-shella) and I am here to serve as your partner in the healing process there is no other way than up from here. I understand that this process may be intimidating and stressful, so I hope my profile will assist in determining whether we might be a good match. 
Therapeutic Approach & Practice Philosophy
My approach is collaborative, integrative, and holistic. I believe that perceiving everyone as a complete being is a vital first step in delivering treatment. I aim to create a safe space, tailor treatment to the individual, and adapt the approach to the client's needs through several strategies that may be used in each session. It is important to recognize the links between emotions, thoughts, bodily experiences, and spiritual beliefs (if any, none required) to increase self-awareness, self-worth, self-love, and self-acceptance. A secure therapeutic relationship encourages healing and effective treatment. With this in mind, my overall approach to therapy is joy-infused, empathetic, and simply kind. I am dedicated to practicing as an anti-racist/liberation-based, multicultural, neurodiverse/LGBTQ+ affirming, and sex/body-positive feminist therapist. I welcome all humans regardless of their background.
Clinical Interests
I am enthusiastic about working with children ages 11 and up and adults in several areas, ranging from but not limited to:
Assessment (ADHD Evaluations, Psychodiagnostics Assessments, & Career Exploration)
Women's/ LGBTQ+ / BIPOC issues
Anxiety/Depression    
Life Transitions/Career  
Personal Growth/Spirituality
Identity Exploration/Development
Trauma/ Relationships
Background
I am currently pursuing a Clinical Doctorate of Psychology at California Southern University. I am in my last year in the program and undertaking a supervised Pre-Doctoral Internship at Deep Eddy Psychotherapy. My doctoral project culminates in women's studies, emphasizing intergroup aggression among girls and women. Throughout my academic and professional career, my major interests have been servant leadership, art, psychology, and education. I value altruism and have completed four AmeriCorps volunteer service programs, for which I won a silver-level Presidential Volunteer Service Award. I received a BA in Art/Psychology from the University of Houston and have training in multidisciplinary visual art. I received a Master of Education from Sul Ross University and am a licensed educational diagnostician and educator in Texas and New Mexico. For the last 13 years, I have served in various capacities within the K-12 school system. My most recent assessment experience covers intellectual impairment, diverse learning disabilities, giftedness, and autism in the K-12 sphere, community, and private psychological practices. I am originally from Houston, TX, but have lived in various states in New England US, Thailand, and New Mexico.  I am an intuitive empath, neurodiverse, bilingual, triracial (Trigueña), Latin(e), and LGBTQ+ affiliated. I enjoy traveling, hula hooping, listening to and dancing to music, playing video games, spending time with loved ones, reading, gardening, art, and craft making in my spare time.