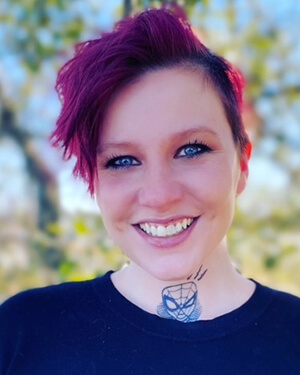 McKenna Hereford, PhD
Licensed Psychologist
Pronouns: she/her/hers
Practice and Philosophy
I know sometimes seeking help can be intimidating, and I'm happy you are here! I approach my work through a curious and integrative lens. You are the expert of your own experience, and I view my role as a collaboration with you to find the key to your own healing. I also recognize the harm that has been caused by various systems and institutions, including the mental health field. I naturally approach therapy with a strong multicultural, anti-racist, and social justice lens. Traditional therapies focus on internal factors, such as the way we think. I think incorporating these with liberation and empowerment tailored to the individual are better approaches to the current challenges faced by many people. Sometimes, the therapy relationship itself can provide a safe space to explore our relationships with others and with each other in the room as well. Basically, I believe in using an integrative approach and leaning on your own strengths as important functions of therapy!
Areas of Clinical Experience and Expertise
Grief
Trauma/complex trauma
Non-monogamy/polyamory
Characterological issues
Healthcare workers
Anxiety and depression
Chronic illness/pain and disabled persons
2SLGBTQIAA+ individuals
BIPOC individuals
I have training in various therapies that we can tailor to fit your needs, such as CBT, ACT, DBT, multicultural orientation, liberation psychology, Motivational Interviewing, and psychodynamic approaches.
Background
I was born and raised in Mississippi, where I experienced cultural clashes since my family is from other areas of the United States. I graduated from Mississippi University for Women with a Bachelor's degree. I received my Master's degree from University of West Florida, with an emphasis on psychology which brings a unique background of science into the picture. I obtained my Ph.D. from Oklahoma State University in Counseling Psychology in 2020 and moved to Texas. In my spare time, I enjoy cosplaying, podcasting, trying new restaurants, and reading. I take any opportunity to incorporate nerd culture and dog breeds into conversation as well!