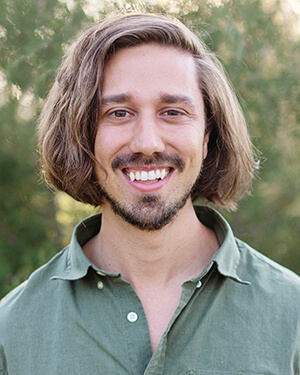 Matt Dietrichson, LCSW
Licensed Clinical Social Worker
Pronouns: He/Him/His
Practice Philosophy
Being a human is complicated. We all can use someone to help us sift through the noise and connect with our inner truths. Good news: the mind is hardwired to heal itself. Given the right conditions, we are all naturally inclined to integrate the various parts of ourselves and find peace in our wholeness. My role is to foster these conditions. The therapy room is a spacious place, free of judgement and full of care, where any and everything you show up with is welcome.
I am genuine and direct with my communication, and also recognize that, ultimately, you are the expert on your own life. As your therapist, I will never try to force or fix you or tell you what to do – I view myself more as a compassionate mirror, to help you see yourself more clearly, and a curious companion, who will walk beside you as we carefully make our way through your inner landscapes.
I take a holistic approach to the mind, incorporating more traditional talk-based (top-down) cognitive methods with other more body-based (bottom-up) somatic methods. Specific therapeutic modalities are secondary to our relationship, but depending on how you best access your inner wisdom, our work together may include movement, guided meditations, parts work, psychodrama, and/or cognitive-behavioral techniques (via CBT, DBT, ACT). I put great value on the therapeutic power of play and appreciate how humor can find its way into our work together. I am committed to working towards racial and social justice in and out of the therapy room – I honor the impact that prevailing structural systems play in one's health and wellbeing and welcome inclusion of such in our sessions.
Background
I am a graduate of the Steve Hicks School of Social Work at the University of Texas at Austin and have spent the past 6 years helping a wide range of individuals, couples, and families, of all ages and backgrounds, deal with a wide variety of mental health complications. I've spent substantial time working at an intensive outpatient therapy program, an inpatient substance rehab, a hospice agency, a skilled nursing facility, and in the community responding to mental health emergencies on a mobile crisis team. Here at Deep Eddy, I see adolescents and adults across the entire aging spectrum.
Things that help me feel most alive and attuned involve movement, music, and interpersonal connection – my healthy habits include riding bicycles, throwing frisbees, playing drums, performing improv theater, dancing, singing, yoga-ing, hosting potlucks, and having meaningful conversations. I feel very lucky to have found a profession that allows me to have meaningful conversations all the time. I look forward to having some with you.