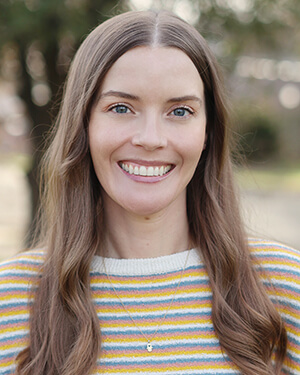 Lindsay Martin, LCSW
Licensed Clinical Social Worker
Pronouns: she/her/hers
Hi! I'm so glad you have taken the huge step to find the right therapist for you.
If that therapist turns out to be me, I cannot wait to meet you and walk alongside you on your healing journey! 
Practice Philosophy and Approach to Therapy 
I approach all clients with warmth, gentleness, curiosity, and a trauma-informed perspective. I believe that you are the expert in your life and I want to hear all about how you have navigated through your unique experiences and how they have shaped your worldview. I believe that each individual has the capacity for deep growth and learning, especially if they have a safe, predictable space where someone will simply listen without judgment.
Areas of Specialized Experience
I have a diverse work background and experience working with a wide range of different types of clients. I utilize a variety of therapeutic modalities to assist clients in working through traumatic experiences, including a popular technique you may have heard of called Eye Movement Desensitization and Reprocessing (EMDR). Throughout my time as a therapist, I have found that I am most skilled at and helpful with the following:
Developmental trauma  

Attachment wounds

Sexual trauma

Intimate partner violence

Grief

Substance misuse 

Military/veteran/first responder issues 

Women's issues 
How I Work 
I love to recommend resources such as books, podcasts, TV shows, YouTube videos, and documentaries for you to look into outside of our sessions. This allows you to take some accountability in your healing path and gives us time in session to discuss the insights you will have gained, so that we can get down to the "real stuff." It is also perfectly fine if, every now and then, you just need a light and breezy session where we talk about how your week has been. I will always meet you where you are and will never push you to go somewhere you're not ready to face just yet, while gently reminding you that I'll be here to go to the dark and scary places when you decide you're ready. 
About Me 
I was born and raised in Fort Worth and joined the Air Force in 2009. While active duty in the Air Force, I experienced the sudden and devastating loss of a parent just as I was becoming an adult. This experience caused me to question everything and led me to seek my own therapy; having a safe person, who didn't have all the answers and wasn't trying to fix me, to meet with from week to week was life-changing for me. This inspired me to start my own journey of becoming a helping professional, so when I separated from the Air Force in 2014, I went home to Fort Worth and completed a Bachelor of Science in child development at Texas Christian University, then a Master of Social Work degree at Texas Woman's University. After almost 9 years back in Fort Worth, I decided it wasn't weird enough for me and I moved to Austin in late 2022. After all that, here I am, excited to work with you! In my free time, you can find me spending time with my schnauzer mix (my bearded lady) and trying every new vegan restaurant that pops up around town.