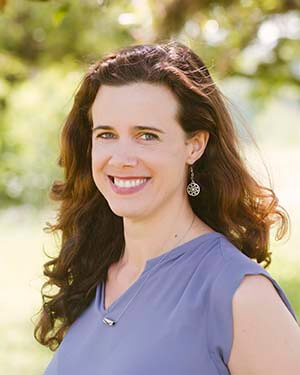 Lara Adams, LPC
Practice Philosophy
"Ego says, 'Once everything falls into place, I'll feel peace.' Spirit says, 'Find your peace, and then everything will fall into place.'" – Marianne Williamson
I believe it is essential to work with the whole being in therapy– engaging the mind, body and spirit in the process of change. In my strengths-based, holistic approach, we will work towards integrating the various aspects of your experience, including thoughts and feelings, physical health, relationships, work life, and spirituality. Inspired by the ancient teachings of Buddhism and Yoga philosophy, I incorporate a variety of mindfulness-based approaches to therapy, offering my clients coping techniques and skills for managing life's inevitable stresses. Whether dealing with past trauma or current pain, these practices offer relief and healing. Through identifying our own strengths and cultivating mindful awareness, we can change the way we respond to inner and outer triggers, leading to a more peaceful and authentic relationship with oneself and others.
Each person has a unique story, style, and way of working through the messy stuff in life and in therapy. I will collaborate with you and meet you where you are. Together, we'll find what speaks to you and what doesn't. I strive to honor and support the individuality of each of my clients. No philosophy or therapeutic approach is more important than listening in the here and now to what is true for the human being I am with.
Specialties
Spirituality & Personal Growth, Life Transitions, Work/Life Balance, Pregnancy, Parenting, Special Needs Parenting, Couples Counseling, LGBTQ Issues, Adolescent Girls Empowerment, Young Adults, Depression & Anxiety, Stress Management, Grief & Loss
Philosophical Influences
Buddhist Psychology, Yoga Philosophy, Existential Psychotherapy, Positive Psychology, Trauma-Informed Psychotherapy, Interpersonal Neurobiology, Jungian Psychology, Acceptance and Commitment Therapy
Background
When away from my work, I am a mother of two small children and spend as much time as possible enjoying my family and friends. I grew up in the Northeast, where I attended Green Meadow Waldorf School, followed by Wesleyan University. My education grounded me in a creative, independent and conscious approach to living. My path has had many twists and turns, leading me through a colorful landscape of vocational and personal experiences. Prior to training as a counselor at St. Edward's University here in Austin, I worked in the film and television industry in various roles. I have been fortunate to have traveled and lived in a number of states and countries worldwide, opening my heart to people from many different cultural and ethnic backgrounds. Throughout my encounters with adventure, challenge, relationships and growth, my interest in the spiritual dimension of life has always been the compass directing my course. My own experiences of pain, darkness, therapy, and holistic healing inform my approach to this work. I also highly value a sense of humor, even in the darkest of moments, and believe that the best therapy can involve a good laugh.