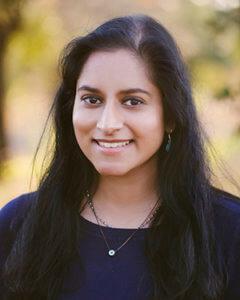 Kruti Patel, Ph.D.
Couples Specialist and Assessment Lead
Practice Philosophy
My personal philosophy of counseling begins and ends with grace and a willingness to enter into an individual's experience alongside them. I entered this field because I feel that I have a genuine listening heart that desires to see people live as whole, fulfilled individuals. I believe in holistic healing that takes into consideration the whole person – physical, emotional, mental, and spiritual. I believe that counseling is a pathway for growth and healing. It is an opportunity for the client to explore his or her own thoughts and feelings in a safe environment. By building a healthy therapeutic relationship, the therapist can guide the client in discovering more about themselves and their patterns of behavior. It also provides a setting that encourages the client in establishing new, healthy patterns of behavior. My practical view of the function of counseling is as a journey of self-exploration by the client, meant to increase his/her level of self-understanding and self-awareness. I act as the guide or facilitator of this journey.
I work with emerging adults, adults, and couples to assist in a variety of presenting concerns.
Assessment/Testing
I specialize in psychological testing to help people understand themselves better and find solutions to their persistent problems. I have a collaborative, warm and open approach to testing. I also provide ADHD assessment, which includes testing the various areas of cognitive functioning that might be impacted by attention. At the end of the testing process, I provide a comprehensive report and a feedback session to explain the findings and provide recommendations.
Couples Counseling & Relationship Concerns
Loneliness and miscommunication are common occurrences in many relationships. Therapy can be a restorative experience to learn, create, and maintain meaningful, satisfying relationships in friendships, family, and romance. Therapy can also provide a safe space to discuss ways to practice setting appropriate boundaries and learn how to communicate emotions and thoughts in a healthy manner.
Trauma
Experiencing a traumatic event can leave some deep and lasting effects. What is traumatic for one individual may not be for another; this, however, does not make the experience any less significant. Some areas that may be impacted include interpersonal relationships, difficulty with trust, a sense of guilt or loss, challenges accessing emotions or challenges in containing emotions. Therapy can provide strategies and skills to deal with challenges in the present and increase resiliency. I aim to provide a safe space to process emotions that may come up and find ways to access and increase inner strength.
Grief/Loss
Losing someone or something you love can be very painful and overwhelming. Extreme sadness mixed with other surprising emotions such as shock, anger and guilt are normal and necessary reactions to loss. Grief is multi-faceted with emotional, physical, social, behavioral and spiritual aspects. Depending on the person's personality, family values, culture and religious beliefs, grief can manifest itself differently. Everyone grieves differently, but allowing yourself to experience grief is an important and healthy part of the healing process.
Other Areas of Clinical Experience
Spirituality and meaning-making; depression and anxiety; crisis situations (e.g. suicidal thoughts, self-harm); identity development; life transitions.
Background
I was born and raised in New Jersey. I received my B.A. in psychology from Rutgers University in 2009. Following graduation, I worked for 2 years as a research assistant in the Division of Schizophrenia Research at the University of Medicine and Dentistry of NJ. At the time, I was also an active volunteer with the South Asian section of NAMI – SAMHAJ. I received my M.S. and PhD in Clinical Psychology at the Ohio University. I completed training rotations in a variety of settings, including the Counseling and Consultation Service in The Ohio State University, substance use specialty community mental health settings in Athens, OH and I conducted many neuropsychology assessments at the psychology department clinic of Ohio University. In my free time I enjoy spending time outside, hiking, meditating, cooking, doing yoga, and exploring Austin.