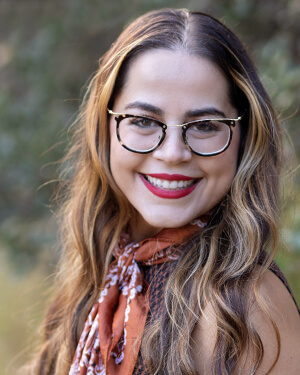 Ivanna Crippa, LPC-A
Supervised by:
Latifa Ward, LPC-S
Pronouns: she/her/hers
Hola! Hello! My name is Ivanna and I want to welcome you to therapy! I am a radically empathetic and empowering bilingual LPC-Associate. Navigating complex and intricate systems or problems has become one of my superpowers. Making mental health accessible and normalized is my passion and I am so excited that you are here.
My Therapeutic Approach
I believe if we heal ourselves, we can in turn heal our communities. There can be so many reasons that may have brought you here and I appreciate your invitation into your journey. Life has so many twists and turns and you do not have to go through it alone. As a therapist, I'll provide a compassionate, safe, nurturing, collaborative, and humourous space for growth. Together we will identify all of your strengths, develop new skills, and aspire to live authentically you. You are in the driver's seat as the expert of your life and together we will build trust and collaborate on the GPS to get you happy, healed, and living a fulfilling life. 
I have experience using Cognitive Behavioral Therapy, Solutions Focused Therapy, Strengths Focused, Attachment Based, Family Systems and Mindfulness with a Multicultural, Intersectional and Trauma Informed approach. I am always learning and adjusting based on the client's needs. 
I have extensive experience working with clients from diverse backgrounds or those who have been intentionally marginalized that are seeking liberation from oppressive systems or situations. I practice from a LGBTQIA+ allied and AntiRacist lens.
Clinical Experience & Interest
I am a bilingual therapist and have focused working with the adolescent and adult population. My areas of clinical experience and interest include: 
Anxiety

Depression

Stress

Career

Imposter Syndrome

Self-esteem 

Codependency

Peer Relationships

Domestic violence/Intimate partner violence 

Teen Violence

LGBTQIA+

Identity Development

Racial Identity

Biculturalism/Acculturation/Assimilation 

Social Justice 

Immigrant Issues

Grief/loss

Substance use

Life Transitions & Adjustments

Women's Issues
About Me
I am the daughter of immigrant parents who was raised outside of Houston, Texas, Pasadena (not to be confused with Pasadena, California). Being curious and a lifelong learner is part of who I am! I earned my Bachelor of Arts in Psychology and Latin American Studies and a Masters of Education in Educational Psychology from The University of Texas at Austin. With over ten years experience being an educator, I transitioned from helping high school and college students graduate to giving clients coping skills, healing and empowerment. When I am not listening to a podcast or a book on a hammock in a park or riding my bike jamming to Bad Bunny or Leon Bridges, you can find me searching for cheap airfare, going to concerts, exploring coffee shops, restaurants, art spaces, and pop up markets.