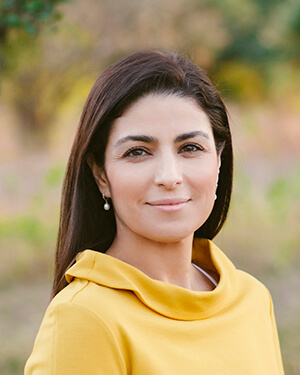 Inbal Kleinerman, Ph.D.
Licensed Psychologist
Child and Adolescent Lead
Child/Adolescent Specialty
"It is in playing and only in playing that the individual child or adult is able to be creative and to use the whole personality, and it is only in being creative that the individual discovers the self."

~ Donald Woods Winnicott
Practice Philosophy
Therapy is an invitation to explore past and present experiences and relationships in a safe, supportive environment. I believe in the healing power of feeling connected—connected to oneself and connected to others. I believe this sense of connection derives from one's ability to know oneself more deeply, accessing different levels of awareness through mindful presence and inner exploration. I see my clients as the experts on their lives and experiences and view therapy as a place that allows us to express our natural power to heal and grow. In this journey, I am actively engaged in helping clients draw on their inner resources and move through their difficulties with a greater sense of empowerment, clarity and support. 
In my work I encourage clients to explore what works for them and find their own path towards living a full and meaningful life. 
Specialties
Throughout my training I worked in different community mental health clinics and inpatient pediatric mental health units in Israel. During these years I treated and assessed a variety of cases, including hospitalized children with heavy psychopathology, such as developmental disorders, severe behavioral disorders and depression. In outpatient settings, I provided assessment and treatment for children, adolescents and adults with a variety of emotional, behavioral and developmental disabilities.
Over the last year I worked at InMindOut wellness center in New Braunfels, TX, providing therapy for all ages including play therapy with children, parental guidance and family therapy sessions, and also did psychological assessment.  
I have training and experience in play therapy with children, parental guidance, and dynamic psychotherapy with adolescents and adults. I also enjoy working with couples through an attachment lens, helping partners build security and trust, as well as the capacity to move through challenging situations (such as emotional dysregulation) with more ease. Whether working with individuals, couples, or children, I enjoy helping my clients contact their inner experience in a new way.  This often means slowing down and mindfully forging a relationship with one's self based on truth and self-compassion. 
Play Therapy
In my clinical work I offer children the opportunity to engage in play therapy. In these sessions I invite the children to explore, communicate and express their internal world. Play therapy includes different methods of working, including sand tray, imaginative play, puppet play and art. Play therapy is based on the theory that play is a child's language; the toys in the playroom are considered the words a child uses to express their inner experience and how they perceive and experience the world. Play therapy is for children ages 3 and up; even teenagers can benefit from the ability to play games appropriate to their age. Children with different types of emotional and behavioral problems will benefit from play therapy.
Parental Guidance
I believe a child is part of a larger system that needs to be addressed for deeper change to occur. I therefore encourage parents to attend meetings every few weeks in order to work together towards helping their child heal and grow. In our parental guidance sessions I will help the parents gain better understanding of their child's needs and inner world. We will also explore family dynamics so the parents can support their child's emotional and developmental needs.
Background
As a native of Israel, I decided to make Austin my home after several transitions between countries and continents including Texas, California and my homeland.
I am a clinical psychologist and registered psychologist in Israel. I work with all ages and a wide variety of symptoms: depression, anxiety, adjustment and transitions in life. My main focus is on children's mental health as well as parental guidance. I also enjoy working with adults and couples. In addition to my more general clinical training, I have specialized knowledge in treating bedwetting, having working years alongside with Dr. Kushnir in Israel. 
I hold a PhD. Degree from University of Bar-Ilan in clinical/educational/developmental psychology, focused on attachment theory in relation to children and their school teachers. 
I am married and a proud mother to two sons and a daughter. When I am not busy working I enjoy yoga, mindfulness practice and listening to audio books.
Here is a link to a course I helped write about potty training; there is a video of me presenting the course: