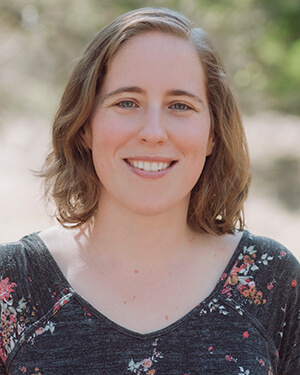 Elise Kotin, Psy.D.
Postdoctoral Fellow
Supervised by:
Oxana Kopeikin, Ph.D.
Practice Philosophy
My professional and personal motto is: "courageously and lovingly focus on the process."
It is a courageous step to seek psychological services. As a therapist, it is important to me to honor this very first step in your process. Clients invite me into their world. They tell me their stories and I have the privilege of witnessing their lives and joining with them in their process.
I use the therapeutic relationship and a collaborative approach to help you develop healthy patterns of relating to yourself and others. I tailor treatment to your needs and honor your various unique aspects and the unique aspects of your presenting concerns–exploring from a nonjudgmental and curious perspective and providing a safe environment where you can express your joys and pains.
Clinical Focus and Passion: Living Consciously in Intimate Relationships
We are all interconnected and experience some of the most fulfilling moments when we are witnessed by others, and when we witness others. We walk through life embedded in relationships. This is why relationships has been an area of specialty for me.  I am passionate about helping people who create all different types of structures of relationships (monogamous, poly, consensual non-monogamous, etc.) navigate life. I have worked with different types of relationships and individuals from different background/cultures. I welcome all to the process of discovery, healing and deepening understanding and love for self and others.
Areas of Clinical Experience:
Relational challenges 

Life transitions 

Anxiety / Depression

Grief/loss

Trauma 

LGBTQIA+ 

Self-development (Self-love development, create authenticity and living from one's truth)

Spirituality / existential curiosities 

Mindfulness / deepening consciousness
About Me
I was born in Fort Collins, Colorado. After living there for the first six years of my life, my family and I moved to the central Texas area. I have lived in central Texas most of my life. I attended Texas State University to obtain my Bachelor's in psychology and minor in Sports Psychology. I was a group facilitator at Hays County Corrections and Supervisions within the Domestic Violence Prevention Program. As a facilitator, I taught groups for male and female probationers who were charged with domestic violence crimes. Additionally, I attended a massage therapy program in Costa Rica. I have always been fascinated with the mind-body connection. After my undergraduate experience, I moved to Fresno, California, where I attended graduate school at Alliant International University. I completed my APA accredited pre-doctoral internship at University of Texas Health Science Center in Tyler, Texas. I worked in a hospital setting with an integrative health approach. I have worked with clients across the lifespan with a variety of mental health concerns. Outside of work, I enjoy staying active, walking my dog, engaging in anything outdoors related, and hanging out with friends.