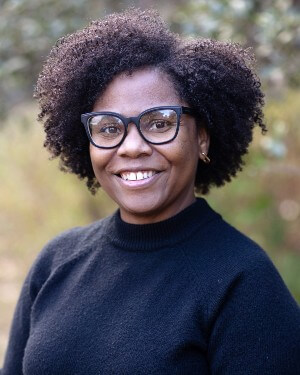 Delisea Johnson, LCSW
Licensed Clinical Social Worker
Pronouns: she/her/hers
Practice Philosophy
I did not grow up wanting to become a therapist, the idea briefly entered my mind in grad school. When I say briefly, I mean it sounded awesome at first but I hated the idea of someone watching me doing a counseling session. Can we say stage fright? I grew up wanting to be a teacher, just like my grandmother. My journey took me, like many people a little all over the place, until I realized I truly did want to be a therapist. Our paths may not be perfect but we are on them, I believe, for a reason; no matter how pretty or ugly that path may be. How we navigate our journey determines how we show up for ourselves, our people, and the world. That's why I enjoy being a therapist to meet people where they are and get them to a place they feel safe to show up in the world, by providing space to process. Without my journey I would not be where I am today. I believe our unique life experiences (the good, bad and the ugly) set us apart but also the things that bring us together.
My Approach
You may be experiencing a life transition, or experienced trauma/toxic stress growing up or in your work environment. Maybe your family is struggling with conflict and looking for some resolution. I am here to meet you wherever you are and support you on your own journey. My clinical journey has allowed me to work with a diverse population of children as young as 3 to senior adults, in schools, inpatient and outpatient hospitals. I enjoy working with individuals, couples, groups, and families. I am a Trust Based Relational Intervention (TBRI) Practitioner, Trauma Focused CBT trained, Critical Incident Stress Management (CISM) certified, SMART Moves Certification, and DARE to Lead Trained. My approach is important, but therapy is a collective effort, where we work together to identify your needs, explore your emotions, process your experience, and find healthy ways to continue on your journey. That is why my approach is not an "one size fits all".
Trauma 

Anxiety/Stress

Depression

Grief and Loss

Coping with life changes (divorce, marriage, college, work, etc)

Families and parenting support

Relationships/Couple conflict resolution
About Me
I came to this career by way of a Masters Degree in Social Work  and continued on to get my clinical hours a few years later. I have been a social worker for over 12 years, working primarily in mental health and school settings. I enjoy spending time with my family including my very large extended family. I have a teenage son, I love to spend time with although he is too cool to hang out with mom most of the time. I enjoy traveling where life takes me, by train, plane, RV and/or cruising.  Wherever my travels take me, I need to know the best food places and where I will have the best experiences. My goal is to experience as much as the world I can while I am capable. I enjoy reading a variety of books, fiction and nonfiction; learning and knowing is one of my love languages (if that is a thing). I would be lying to myself, (and you) if I failed to mention the occasional R&R of streaming television, because why not.