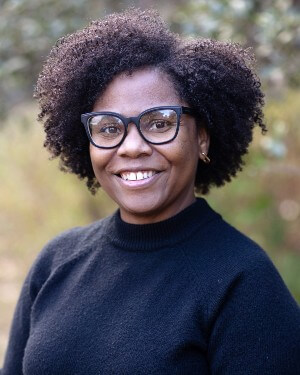 Delisea Johnson, LCSW
Licensed Clinical Social Worker
Pronouns: she/her/hers
About Me
I enjoy spending time with my family including my very large extended family. I have a teenage son, I love to spend time with although he is too cool to hang with mom. I enjoy traveling where life takes me, by train, plane, RV and/or cruising.  Wherever my travels take me, I need to know the best food places and where I will have the best experiences.
Background
I did not grow up wanting to become a counselor, the idea briefly entered my mind in grad school. When I say briefly, I mean it sounded awesome at first but I hated the idea of someone watching me doing a counseling session. Can we say stage fright? I grew up wanting to be a teacher, just like my grandmother. When I was younger she would let me help her grade papers; I was the one now on the side of the red pen. However, with my first job in a clothing store and all the business classes I took in high school, I knew I wanted to become a business major with a minor in marketing. I really loved my classes in business until I took my first accounting and econ class in the SAME SEMESTER. Total MISTAKE. So, I got an Associates Degree in Marketing and took a couple of years off, "to figure out my life." During that time off, I had a job where I was able to travel to a couple of countries experiencing extreme poverty and trauma. I finally decided I was ready to go back to school and get my degree in education. This lasted for about a semester. I had two campus internships, both serving children/families with similar demographics, however, I had two experiences. The first school I went to I fell in LOVE With education again, I finally knew what I wanted to do. I went to my second internship and I had a completely different experience. I still loved the idea of teaching but I could not get over the idea that one of the students was living in the car with his mom. Of course a few years later, I learned the behaviors he was having was because of the high levels of stress and/or trauma he and his family were experiencing. I went to my campus advisor the next week. "I took that test that told me education was the best career fit for me." She asked if I ever thought about Social Work, and I should take a couple of classes the next semester. Guess what, I had finally found my calling. I have my masters in Social Work from the University of Texas in Arlington. I have been a social worker for over 15 years. My career path has even allowed me to work in education for several years. When I decided to become a clinical social worker, I knew it was where I needed to go next in my career journey.
All this to say, that my journey, like many others, has been a little all over the place. The fancy word for this would be eclectic. I am okay with that. Without my journey I would not be where I am today. I believe our life experiences (the good, bad and the ugly), are unique and help to make us who we are today and shape who we can become in the future. You may be experiencing a life transition, or experienced trauma/toxic stress growing up or in your work environment. Maybe your family is struggling with conflict and looking for some resolution. I am here to meet you wherever you are and support you on your own journey. My clinical journey has allowed me to work with a diverse population of children as young as 3 to senior adults, in schools, inpatient and outpatient hospitals.
Specialties
 I enjoy working with individuals, groups, and families. I am a Trust Based Relational Intervention (TBRI) Practitioner, Trauma Focused CBT trained, Critical Incident Stress Management (CISM) certified, and currently working on my SMART Moves Certification.
I specialize in:
Trauma 

Stress 

Anxiety

Depression

Grief and loss

Coping with life changes

Families and parenting support