Chloe Powell, Doctoral Intern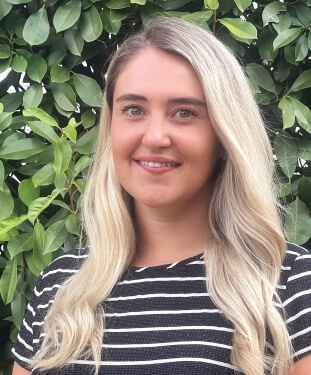 Chloe Powell
Doctoral Intern
Supervised by:
Katie Fahrner, Ph.D. 
Oxana Kopeikin, Ph.D. 
Karlene Gacita, Psy.D.
Pronouns: s
he/her/hers
Hello and Welcome!
My name is Chloë (she/her), and I am a Doctoral Intern here at Deep Eddy, providing both therapeutic and assessment services. Thank you for taking the courageous first step in choosing a therapist. I appreciate that this process can be daunting and overwhelming, so I hope the following bio will help you to find out whether we could be a good fit.
Practice Philosophy
For as long as I can remember, I have been interested in human behavior and resiliency. My approach to therapy is fundamentally person-centered, prioritising a warm, empathetic, therapeutic relationship at its core. I believe that it is this secure relationship that promotes healing and effective treatment. Therapy can be a little like exploring a cave in that it may be associated with fear, the unknown, or darkness. My role is to help guide you through the cave to make you feel as safe as possible, to provide you with a torchlight and other protective gear, and to support you with uncovering the treasure that you've been seeking. My approach with clients is individualised and integrative, though I tend to use emotion-focused, attachment-informed, and experiential therapies. I also use humour and laughter, when needed, and bring my curious and playful spirit into the therapy room.
Clinical Interests:
I am passionate about working with adolescents, young adults, and adults in a variety of areas, including but not limited to:
Psychological Testing (ADHD, Learning Disorders, Mood Disorders, Anxiety)
Anxiety
Depression & Low Mood
OCD
Substance Use Difficulties
Trauma
Life Transitions
Relationship Challenges
My Background
I am a British Expat who has recently moved to Austin from Vancouver, Canada – I'm excited to be here and to catch a break from the rain!
After receiving my B.Sc in Psychology from the University of Birmingham, U.K., I moved to Washington D.C., where I was privileged to work with precariously housed individuals experiencing complex substance use and mental health challenges. My experience here taught me that an individual's difficulties are best understood within the context of familial, cultural, and societal systems at large.
In 2018, I chose to pursue my Doctor of Psychology (Psy.D) in Clinical Psychology from Adler University. I am currently in my final year and am completing my supervised Pre-Doctoral Internship here at Deep Eddy Psychotherapy. During my training, I have worked with youth and adults in a variety of different settings including, residential treatment, outpatient clinics, and private practice. Having gained clinical experience in these settings, as well as in several different countries, I have provided support to individuals of diverse cultural, racial, sexual orientation, and gender identities. I am committed to practice as an anti-racist, gender and sexuality-affirming, feminist therapist, and welcome all individuals irrespective of their background.
In my spare time, I enjoy getting outside in nature, creating psychology-related digital artwork, reading a gripping thriller, conforming to the British stereotype of drinking lots of tea, and spending time with my partner, friends, and 100lb wannabe lapdog, Alby!
I look forward to working with you!