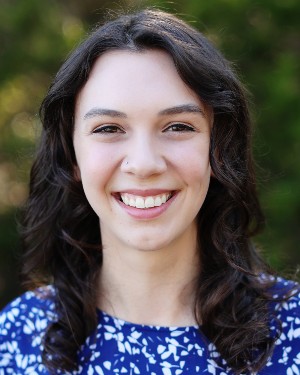 Caileigh Chadwick, LMSW
Licensed Master Social Worker
Supervised by:
Cheryl Foster, LCSW-S
Welcome! Whether this is your first time exploring therapy or your return to sessions, I applaud you for this courageous step.

– Caileigh 
My Approach to Therapy
The foundation of my therapeutic approach is honoring the client's experiences and creating a safe place to build an authentic therapeutic relationship – one of the most important factors for successful therapy. My approach in therapy sessions reflects a holistic, relational, and strengths-based view of someone's journey. My therapeutic style is warm, compassionate, and patient. Through exploring our experiences with a warm and attuned presence, we can connect with ourselves, others, and meaningful things in our lives in a new and healthy way. 
I work with clients to discover how we can gently and bravely turn toward and give space to challenging emotions, thoughts, behaviors, and experiences to foster growth and healing. As Carl Rogers wrote, "The curious paradox is that when I accept myself as I am, then I change." 
My approach allows me to be flexible and meet clients where they are, moment to moment. I work with an attachment-based lens and use techniques influenced by mindfulness, self-compassion, DBT, and IFS. Additionally, I am trained in and use Eye Movement Desensitization and Reprocessing (EMDR).
Clinical Areas
I provide psychotherapy for adults and adolescents. Clinical areas in which I have experience include:
Depression and Anxiety:
Feeling low or sad, or having a loss of interest or energy in daily life

Anxiety interfering with daily life

Struggling with managing difficult emotions 
Life Transitions
Relationships starting or ending

Establishing autonomy 

School, college, or job transitions

Stress 
Trauma:
PTSD symptoms

Developmental or complex trauma 

Trauma from domestic or sexual violence 

Grief and loss
Addiction
Challenges in recovery and maintaining sobriety 

Unhealthy substance use 
Relationships with others and oneself: 
Relationship and attachment issues

Difficulty with healthy relationships and boundaries

Challenges with family 

Fear of abandonment or intimacy 

Feeling disconnected from others 

Self-esteem issues 

Spirituality 

Identity issues

Self-compassion
About Me
After being on the other side of the therapy couch, I knew I was meant to provide that same service to others. I was born and raised in a suburb just outside of Washington DC. I moved to Columbus, Ohio where I completed my B.A. in Psychology and Master of Social Work (go Buckeyes!). While in school, I worked as a research associate investigating the links between the opioid epidemic and childhood maltreatment and trauma. I decided to leave the Midwest winters and found my home here in Austin. I've worked in a variety of settings including psychiatric hospitals, residential centers, outpatient centers, and private practices. I have experience with both teens and adults. Outside of work, you can find me enjoying the sunshine on hikes and baking my great-grandmother's banana bread recipe.