Aradhita Gupta, Practicum Student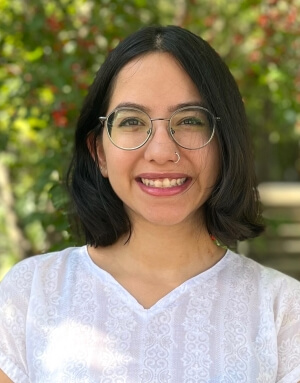 Aradhita Gupta
Practicum Student
Supervised by:
Tiffany Nicely-Williams, LCSW
Pronouns: s
he/her/hers
Practice Philosophy
I have learned each person has their own unique story which needs to be heard and accepted in its entirety. When this story cannot be expressed and accepted in the individual's relationships or in the individual themselves, it can cause distress and distance between the person and their own experience.
I translate this in my approach by adopting Rogerian and Psychodynamic (especially interpersonal) perspectives and striving to really listen to what an individual is saying, and to accept and believe their thoughts and behavior as a natural response to their life story.
I believe that these life stories are heavily influenced by a person's relationships to themselves, others in their lives, society, and the external world in general. I also believe that therapy happens between people and see the therapeutic relationship as crucial for individuals to be able to share their life story and gain insight.
Areas of Clinical Interest
Mood disturbances (depression, anxiety etc.)
Attachment patterns
Relationship issues
Self-image / self esteem
About Me
I was born and brought up in India. I grew up spending a lot of time studying, reading fiction, crafting and all around being a bit of a nerd. I studied psychology and math during my undergraduate and earned a B.A. and Advanced P.G. Diploma in Psychology at Ashoka University. I then worked for a while in teaching and research roles before I moved to the US, where I am currently working towards my M.Ed. in Counselor Education at the University of Texas at Austin.
My personal identity is defined by pursuit of balance between academics and creative endeavors. When I am not working, I am either painting, crafting, knitting, or searching out blog posts about painting, crafting, and knitting. I also enjoy thinking about physical spaces and their vast aesthetic potential and spend a lot of time personalizing the spaces I inhabit, which helps me explore and define myself!