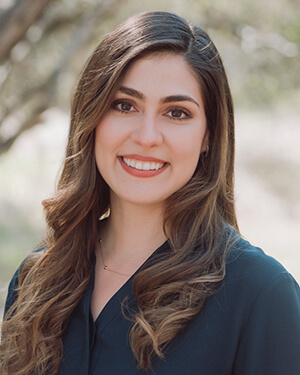 Adriana Sanchez, LPC
Licensed Professional Counselor
Pronouns: she/her/hers
Therapeutic Approach
Feeling overwhelmed, depressed, anxious, irritable, and overall stuck are emotions many people experience; however, this doesn't mean you have to continue struggling through each day with this weight on your shoulders. I believe the therapeutic process is a journey you can take at any point to live with complete presence and intention. Life has so much to offer, and you're already one step closer towards finding what else it has in store for you.
As a therapist, I aim to truly connect with the client in the most compassionate, non-judgmental, and empathetic manner. I believe the most valuable therapeutic work is done when the client can trust the person guiding them through their rewarding and challenging journey. Once clients can trust me, and themselves, I firmly hold that they can tap into their personal strengths and find their deepest sense of autonomy. I provide them with tools along the way, stemming from Cognitive Behavioral Therapy, Dialectical Behavioral Therapy, and Mindfulness approaches.
I believe the process of clearly identifying what they have experienced, who they are, have been, and want to be allows clients to free themselves of the symptoms that may come with uncertainty and life's obstacles. With this freedom, there can be more space to be mindful of the present moment and the ability to find inner peace.
Clinical Interests
I typically work with anxious and/or depressed adults who are experiencing symptoms related to past trauma. More specifically, relational and developmental traumas related to family of origin issues, resulting in early childhood attachment difficulties that are likely due to a difficult/unloving parent or dysfunctional home environment. Many of my clients suffer from low self esteem, difficulty in relationships with themselves and others, and are uncertain of their sense of self. My goal as a therapist is to encourage my clients to connect on a deeply compassionate level with all the different parts of themselves in order to move towards a more integrated, authentic, and completely whole self.
I welcome diversity and honor individuality, having experience working with clients from multiple backgrounds, identities, and life experiences. I am LGBTQIA+ allied and feel passionate about providing a safe and nurturing environment for my clients that come to therapy belonging to this community and who may be experiencing shame, institutional discrimination, internalized homophobia, and/or identity crisis.
Areas of Clinical Interest
Anxiety
Depression
Identity Crisis
Life Transitions
Self Esteem
Family Conflict
About Me
I am a bilingual Mexican American with vast personal and clinical experience regarding cross-cultural/identity concerns.
I also work as a Pilates Instructor, which allows me to teach about the mind-body connection in a way that additionally holds me accountable to exercise. My other interests include, walking along Lady Bird Lake, knitting, re-watching my favorite TV shows, and listening to comedy podcasts.