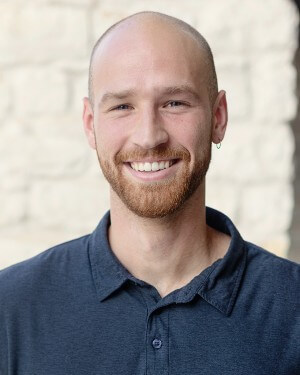 Adam Horn, LPC-A
Licensed Professional Counselor – Associate
Supervised by:
Jamie Diaz, LPC-S
Pronouns:
he/him/his
Hello! Welcome to my page. I understand finding the right therapist is an important and challenging task. Additionally, I believe therapeutic fit is crucial to the therapeutic process. That being said, I want to describe a little about myself, my clinical interests, and my view of therapy to help you make the decision that is best for you.
My View of Therapy:
I chose to become a therapist after facing personal struggles of my own. I learned first-hand how therapy can be a powerful tool to help navigate life's challenges. Additionally, I realized I was passionate about mental health and wanted to spend my career learning, advocating, and serving my community.
I practice from a holistic standpoint, believing many factors go into the human experience and should be given their appropriate attention. I believe therapy is a little different for all individuals. I strive to meet individuals where they are and tailor my approach accordingly. I always work to create a safe environment for all people suitable for personal growth, healing, and exploration. I believe clients are the experts of their lives, and my role is to offer support, guidance, tools/skills, and the occasional interpretation. If you think we may be a good fit, feel free to request an appointment, and we can set up an initial intake.
Clinical Interests:
My two main areas of focus and expertise are anxiety and trauma. Anxiety and trauma are arguably the most prevalent mental health concerns in the US, affecting millions of people of all ages. If ignored, anxiety and trauma often result in numerous physical, mental, and relational ailments, disrupting individuals' daily functioning. Due to the prevalence and negative impact on quality of life, I have tremendous interest and passion in learning about and helping people heal from/navigate these issues. I utilize many treatment methods, including various forms of talk therapy, mindfulness, mind-body connection, and yoga. Although anxiety and trauma are my primary specialty, I am interested and well-suited in the below areas:
Depression

Relationship Difficulties

Life Transitions

Career Concerns

Existential Issues

Personal Growth

Building Resilience

Athletes
Types of Clients:
Teens (13+)

Young Adults

Adults

LGBTQ+
A Bit About Me:
I am fairly new to the Austin area and absolutely love it here. I enjoy yoga, rock climbing, being outdoors, exploring Austin, hanging out with friends, watching movies, and reading. I graduated from the University of the Cumberlands with a Master's in Mental and Clinical Health Counseling. Additionally, I am a trauma-informed certified yoga teacher; I teach yoga around Austin and enjoy implementing it into my holistic therapeutic practice. I played college basketball and am well-versed in the world of athletics. Overall, I love connecting with individuals as we all work through this journey of life.