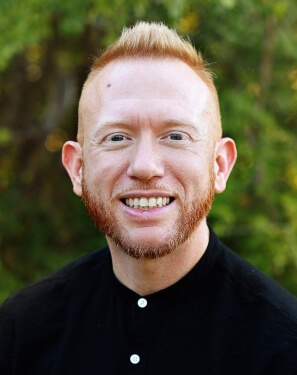 Adam Benden, LCSW-S
Licensed Clinical Social Worker – Supervisor
Pronouns: he/him/his
My Philosophy and Approach to Therapy
Beginning therapy is often our first step on the path toward healing. And just by considering this step, you are already taking a leap that requires enormous courage and trust in yourself and your potential therapist. As someone specializing in trauma healing and recovery, this beginning foundation of trust and courage to heal is the basis of all my work with clients. These qualities help us create a therapeutic relationship which is a physically and emotionally safe container for every part of you and your experiences. This foundation is where we build a new sense of ourselves and transform our lives to enhance our well-being, sense of purpose, connection, and joy in the world. If trauma is alienation from ourselves (as Dr. Gabor Maté has said), then my greatest hope is to help my clients find their way back home to themselves, perhaps for the first time.
I work to create a highly collaborative and empowering relationship in therapy which emphasizes resilience, empowerment, and the ability to heal at any stage of life from experiences of trauma and abuse. My approach emphasizes in-depth exploration of mental health challenges with compassion and curiosity to not only manage symptoms of mental illness but also to identify and address the core emotional wounds underlying many of our most common mental health struggles. We work together to integrate the body, emotions, and mind to maximize a holistic approach to therapy and healing work. Each relationship with my clients is unique and works to build on the specific strengths and needs of each person to find their own path to healing in an environment of radical acceptance, honesty, curiosity, and humor.  
I draw extensively on attachment theory, psychodynamic approaches, and cutting-edge brain science to help address the root causes of mental health challenges in general and specifically those from trauma. We will look at how unconscious and disavowed emotions and experiences lead to frustrating cycles of thinking and acting in our lives which get in the way of us thriving and living fully. The overarching goal in my work with clients is to help them move from being stuck in survival mode to connecting with ourselves and the world from a place of internal peace and safety. While I am very eclectic in my approach to treatment, I typically use the following modalities with clients based on their unique goals and needs: Emotion-Focused Therapy, Internal Family Systems, Interpersonal Neurobiology, Cognitive Processing Therapy, Trauma-Focused Cognitive Behavioral Therapy, attachment-based approaches, Motivational Interviewing, and various aspects of mindfulness and Somatic Experiencing. I work with a wide range of clients of diverse backgrounds and identities and have a high emphasis on social justice and inclusiveness in therapeutic practice.  
Areas of focus/Specialties
As a therapist, I specialize in or have experience in the following areas to assist in your healing work:
Complex/Developmental trauma and C-PTSD
Acute trauma and PTSD
Experiences of abuse during childhood (sexual, verbal, physical, and emotional)
Attachment
Mood disorders (depression, bipolar disorders, anger challenges, etc.)
Anxiety
Personality disorders
Grief and loss
Relationship challenges
Addictions and substance use
Existential issues (freedom, choice, mortality, impermanence, etc.)
Spiritual and religious issues
Mindfulness/Meditation and Yoga
Suicidality and self-harm
Impacts of intergenerational trauma and poverty
Psychedelic Integration
My Story
Hello there! I come from a working-class family from the rural Midwestern U.S and lived there up until going to music school in Boston after high school. After years of pursuing a career as a professional guitarist and music teacher after high school, I found my true calling in helping others through the practice of therapy and the study of psychology and philosophy. I completed my undergraduate and graduate degrees at The University of Texas at Austin Steve Hicks School of Social Work while also pursuing interdisciplinary studies in social inequality, health, and policy. I have worked as a therapist in many different settings including adult literacy and workforce development, community mental health with adolescents involved in the juvenile justice system, medical clinics, and group therapy practices. In my time outside of being a therapist, I love to practice Ashtanga Yoga, read, meditate, learn Spanish, cook, be outdoors, spend time with my partner and friends, and pursue my own path to healing as a fellow trauma survivor.